MSC Orchestra four crew members hospitalized with bacterial meningitis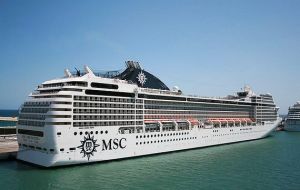 Four members of the crew of an Italian liner are in hospital, including one who is fighting for his life, following an outbreak of bacterial meningitis. The four were admitted to hospital in the Tuscan port of Livorno on Sunday at the end of a cruise by MSC Orchestra liner. A 32-year-old Indonesian crew member is the most ill of the four.

The Italian Ministry of Health notified on Sunday to French Focal Point, under International Health Regulations about the situation on board the cruise liner MSC Orchestra, where the four cases of meningococcal meningitis have been discovered.

According to Italian sanitary authorities the two countries health agencies are working in close contact. The cases had been notified by the ship to the Air and Maritime Health Office (USMAF) at Livorno. A doctor from USMAF was dispatched to the ship after two crew members fell ill; the two have been disembarked and immediately hospitalized in a Livorno Hospital.

Subsequently, USMAF ordered the isolation and the antibiotics prophylaxis for the close contacts of the cases and for all the passengers on board, with exclusion of those embarked during the day; prophylaxis was offered to all the crew members.

The drugs needed for the prophylaxis (2.800 doses) have been quickly mobilized and administered by the Local Health Agency (ASL). Two antibiotics were used: rifampicin and ciprofloxacin.

The USMAF has also put under surveillance for seven days all crew members and the passengers, suggesting to MSC to contact all passengers disembarked during the last seven days at Catania, Naples in order to administer them the prophylaxis.

USMAF later on Sunday reported that two additional crew members developed symptoms of the illness and were hospitalized. The Livorno USMAF has informed about the situation the Catania and Naples USMAF, ports were the ship stopped in the previous days.

On Monday 8 October 2012, the four cases were confirmed and in two of them the causative agent is N. Meningitidis serogroup C.

The cases were in kitchen workers and thus, the likelihood they were in close contacts with other passengers is considered low, said Italian officials.

However, since it is not possible to ascertain at the moment the virulence of the pathogen behind the ship outbreak, the Ministry of Health informed all Italian Regions about the outbreak and that the passengers, advised through the Ship Owner Company, could turn to the local health agency for receiving the prophylaxis or counselling.

The Italian Ministry of Health sent advices to the International Health Authorities for the implementation of all surveillance measures needed in such cases.