Sunday of protests against austerity measures in cities across Spain
Monday, October 8th 2012 - 06:15 UTC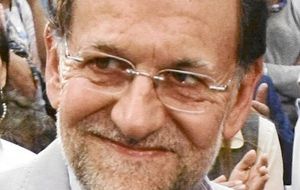 Thousands of Spaniards on Sunday marched in cities across the country to decry tough austerity measures, part of a growing protest movement that shows no signs of abating and could culminate in a general strike in November.
Hundreds of thousands of Spaniards have taken to the streets in near-daily protests over the past few months, creating a headache for the centre-right government as it faces regional elections and tries to assure investors the country is stable.
Spanish labour unions said they would call a general strike if the government did not hold a referendum on unpopular spending cuts. Prime Minister Mariano Rajoy unveiled 13 billion Euros in additional savings in a tough budget last month.
"It's up to the government whether there's a general strike or not. If they were going to hold a referendum things would be completely different," said Ignacio Fernandez Toxo, leader of Spain's biggest union, Comisiones Obreras.
Spain is now at the eye of the Euro zone storm, with expectations mounting that the government will soon seek European aid to keep its borrowing costs under control.
Some 60.000 people attended the union-organised march in the centre of Madrid. "How can there be peace without bread?" and "Their plunder, my crisis", placards read.
Protesters were decked out in the colours of various unions, and many wore T-shirts saying "I used to have social and labour rights". Protests took place in dozens of cities on Sunday, but there were no reports of any violence.
The situation has become more challenging for PM Rajoy since the richest region Catalonia is pushing for an autonomy referendum or an increase in the tax-revenue share Madrid distributes among the regions. Likewise in the Basque region despite the ETA decision to drop arms and become entirely political, some nationalist parties are believed to be involved in the promotion of an autonomy or even independence referendum.