Falkland Islands unravelled
Tuesday, October 9th 2012 - 00:35 UTC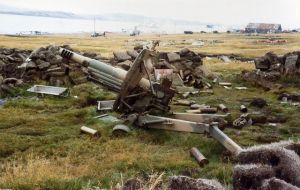 By Alicia Dunkley-Willis, Jamaica Observer - What does a country with 3,000 people and nearly half a million sheep look like? After 18 hours of flying and trekking through four airports, I was determined to find out.
As the less than full Lan Chile aircraft broke through the clouds on its approach to the sole airport on the Falkland Islands, I struggled to decipher what was below. I allowed my imagination to run wild as I unscrambled the view. The smattering of buildings strategically dotting the landscape with their red, green, brown, and yellow roofs resembled Lego pieces. What were those seemingly huge cracks that snaked through the wild mix of blue, green and sandy hued countryside? I could not tell, but I was about to find out.
It's the kind of place of which novels tell: bleak mornings, elusive sunshine. The sharp, stinging, contrary winds penetrating my Caribbean clothing challenged what I was told upon arriving. The Falkland Islands, a group of 740 islands located in the South Atlantic Ocean was experiencing spring; its winter just ended.
Hills are rare in this country, trees even more so. On a clear day one can see rolling plains for miles — interrupted only by the thorny gorse shrub which reigns supreme. A few pines, lakes, creeks and ponds bravely compete.
Homesteads are far and few between; 35 people to a town is no strange thing.
The remnants of the war fought in 1982 between the British and Argentina after the latter invaded the Islands are still very much a part of the epic brooding landscape with its changing skies and blustery winds. The countryside, where the worst of the battle raged, is alive with history and every now and then an odd trench, then a strategic spot to one platoon or the other, shows up. Inside, a tattered blanket, its original colour long gone, tells a sobering tale. Every now and then, too, a mound bearing a monument appears. The inscription tells of the brave soul that fell at that very spot in service to country.
There is even a place for the Argentine dead who found rest after their Government rejected the offer to have the remains repatriated. It's a well maintained cemetery; a striking sea of white rosary draped crosses on a hill. Some carry names inscribed on the tombstones. Others chillingly say "Soldado Argentino, solo conocido por Dios". Argentine soldier, known only unto God.
The memorials are thrown into sharper focus as the Islanders prepare to go to the polls in 2013 to define their political status in a referendum.
In this land anything is possible, rivers of stone, called stone runs by scientists, white sand beaches fenced off because of Argentine landmines, penguin colonies, friendly dolphins, and fish in abundance, and personable sheep.
As I'm leaving, this time peering down from my place in the sky, I smile satisfied. Now I know what's down there; sea lions, meandering creeks, old minefields, resilient people, the oldest longest suspension bridge in the world, and penguins that burrow like rabbits and bray like donkeys.
I know what's down there. I do.