Paraguay ratifies it rejects point blank Venezuela's incorporation to Mercosur
Wednesday, October 10th 2012 - 09:47 UTC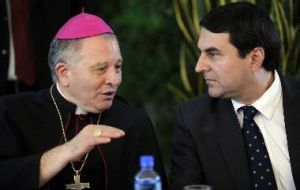 President Federico Franco ratified on Monday before the Diplomatic Corps that Paraguay rejects point blank the incorporation of Venezuela as full member of Mercosur and also considers the country was unfairly treated by the block.
The announcement was done at the Holy See (or Vatican embassy) in Asuncion during lunch organized by Monsignor Antonio Ariotti dean of the Diplomatic Corps, who had also invited the Mercosur and Unasur diplomats who finally did not turn up to the meeting.
But another twenty ambassadors did turn up including those from the US, Mexico, Central America, European Union, Asia and multilateral organizations. Also attending was Paraguayan Foreign minister Jose Felix Fernandez Estigarribia who met with the press to inform on the event
"I imagine they were invited but they did not wish to attend", said Minister Fernandez Estigarribia when asked about the absence of South American diplomats.
The minister added that "ambassadors are well aware and appreciate the standing dialogue willingness of the Paraguayan government". The statement was in reply to whether the diplomats that shared the event at the Vatican embassy had offered some kind of mediation in the conflict with Mercosur and Unasur.
Paraguay was suspended from Mercosur and Unasur until April next year following the June impeachment by the Senate that removed Fernando Lugo from the presidency and had him replaced with Federico Franco. April 2013 presidential elections are scheduled.
Asked if Paraguay was conditioning its return to Mercosur Fernandez Estigarribia indicated "I would say that what Paraguay is asking for, first of all is dialogue and finding a way to put some order in Mercosur which is not going through its best moment, taking into account that one of its members has been sanctioned without having the chance to make discharges".
Asked about the re-election of Hugo Chavez in Venezuela, the Paraguayan official said that "our position is that unfair measures were implemented on Paraguay and we do not accept the incorporation of Venezuela. Likewise we do not make statements on the internal affairs of other countries".
Fernandez Estigarribia added that "we hope the government of Venezuela understands it has made a mistake with Paraguay" and confirmed President Franco did not phone Chavez to congratulate him on his victory.
Finally asked if the Executive was going to send to Congress the Ushuaia II Protocol, the instrument used by Mercosur to sanction Paraguay, the minister said the government would wait to see how the debate on the Unasur protocol evolves, "before deciding on Ushuaia II".
Ushuaia II empowers Mercosur to impose sanctions or suspend members that have allegedly suffered a "rupture of the democratic process". The protocol was never considered much less approved by the Paraguayan Senate.