Chavez prepares his succession: names Foreign minister Maduro Vice-president
Thursday, October 11th 2012 - 04:23 UTC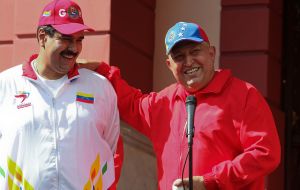 Venezuela's President Hugo Chávez named Foreign minister Nicolás Maduro as his new vice-president on Wednesday in the first change of cabinet after Sunday's re-election.
A former bus driver and trade unionist, Maduro replaces Elías Jaua, who will run for the state governorship of Miranda against opposition leader and defeated presidential candidate Henrique Capriles in a December gubernatorial vote.
The affable Maduro, 49, has long been seen as a possible successor to Chavez, and was frequently at his side in the most critical moments of the president's year of cancer treatment.
Capriles has been seeking to rally Venezuela's crushed opposition for the December vote, when opposition parties will seek to peg back the ruling party of Chavez at local level.
The energetic Miranda state governor said he had put Sunday's loss to Chavez by 11 percentage points behind him.
"On Sunday I felt really down, I'm one of those people who can't hide their feelings," said Capriles, who won 44% of the vote compared to 55% for Chavez.
"Now I'm back on my feet... The tears have dried up quickly. Today I have even more strength and energy," Capriles said during a three-hour news conference late on Tuesday.
A business-friendly lawyer and career politician widely seen as the opposition's best leader of the Chavez era, Capriles, 40, plans to run for re-election as governor of Miranda.
Having beaten a heavyweight Chavez ally for that post in 2008, Capriles will now take on another senior loyalist, Jaua, in the highest-profile race of the Dec. 16 elections. Capriles will formally launch his candidacy on Friday, his office said in a statement.
Members of the opposition coalition control seven of 23 states, and they hope to increase that number in December. But Chavez's candidates will gain momentum from his victory, especially as he won in all but two states.
"We've lost one game. But we're over it and now we Venezuelans have to think about the next one," added Capriles, urging the 6.5 million people who voted for him to back opposition governors.