US Noble Energy adds Nevada to its list of prospects which includes the Falklands
Thursday, October 11th 2012 - 23:44 UTC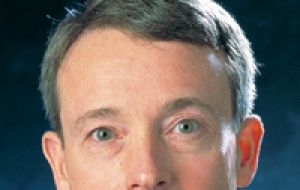 Noble Energy which expects go be extracting oil from the Falkland Islands before 2020, said on Thursday it plans to explore for crude oil in areas of Nevada that have seen little drilling, as the US exploration and production company starts to assess its longer-term prospects.
Noble and other oil and gas companies rely on developed reserves to grow output and generate cash flow. Because those reserves hold a finite amount of recoverable oil and gas, companies must always scout out riskier prospects for future growth.
In addition to the 350,000 prospective acres Noble has acquired in the far north-eastern corner of Nevada, Noble told analysts on a conference call it plans to drill in waters off the Falkland Islands and it will explore for "deep oil" in the Mediterranean Sea.
"We do not expect all of them to work," Chuck Davidson, Noble's chief executive officer, said. "That is always true with exploration, but with the prospects that we have highlighted today, it would just take one to be successful to have a very meaningful impact on our company."
On Noble's acreage in Nevada there are about seven very old wells drilled. The company, which is in the process of acquiring seismic data, plans to first test the acreage using vertical wells. Depending on those results, Noble may switch to horizontal drilling, Susan Cunningham, head of exploration, told analysts.
First production in Nevada is expected in 2014, but the company has assigned the project a 55% chance of succeeding. The acreage may hold up to 1.3 billion barrels oil equivalent, Noble said.
Oil-bearing rock formations in places like the Bakken and Eagle Ford shale are already crowded with drillers, but there are only a handful of small operators in Nevada.
Noble and its partners estimate their prospects off the Falkland Islands may hold up to 12 billion barrels oil equivalent. The Houston company will spend an estimated 180 million to 230 million dollars over three years on the project and sees production of 50,000 barrels per day by 2020.
Houston-based Noble last August reached a farm-out deal with Falkland Oil and Gas Ltd, which will stay on as operator of the licences until early 2013 when operator-ship will pass to Noble.
In the eastern Mediterranean, Noble plans to explore for oil located far beneath its Leviathan gas discovery. Production from the project is not expected until 2018 and it has a 25% chance of success, Noble estimates.