Noble Energy says Falklands' oil production in six years if exploration well proves successful
Friday, October 12th 2012 - 16:44 UTC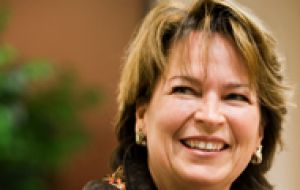 Noble Energy Inc. (NBL) executives said on Thursday that oil production in the Falkland Islands could begin in about six years if an exploration well proves to be successful.
Susan Cunningham, senior vice president for exploration, said during a conference call that drilling began on an exploration well in the region late last month, the first that Noble has participated in there under the farm-in agreement it entered with Falkland Oil & Gas Ltd. (FOGL.LN) in August.
If that well results in an oil discovery, Ms. Cunningham said the first production could come by 2018 or early 2019.
Under its agreement, Noble has a 35% operating interest in most of FOGL licenses and agreed to spend 180 million to 230 million dollars on exploration over the next three years. Executives said on the conference call that the Falklands' venture has the potential to be a "game-changer" for Noble, and that initial results from the well are expected by the end of the year.
Oil exploration in the Falklands has been hindered by sovereignty disputes. Though the archipelago is a British Overseas Territory, Argentina hasn't given up its claim to the Islands. But Ms. Cunningham didn't mention geopolitical risk as a problem for the company.
"We believe that the Falkland Islands is an area where above-ground risk is very manageable," she said. "The regulatory environment is sophisticated and stable, and the financial terms are attractive".