ARA Libertad dispute in Ghana: high ranking Argentine navy officers lose their jobs
Monday, October 15th 2012 - 23:08 UTC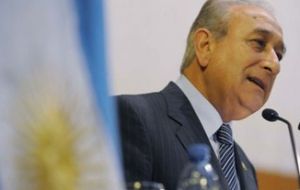 Argentina' Defence Ministry announced on Monday that two top Navy officers had been disciplined for their responsibility in plotting the course of the training frigate ARA Libertad currently retained in Ghana on an injunction from a US based hedge fund and following a failed plea last Thursday.
The sanctions were imposed on the Argentine Navy secretary, Alfredo Mario Blanco and the former director of Organization and Doctrine, Luis Maria Gonzalez Day.
Defence Minister Arturo Puricelli also sent a letter to his peers from Chile, Uruguay, Paraguay, Venezuela, Brazil, Peru and South Africa requesting they collaborate in helping to find a solution to the controversy with the courts of Ghana. All the above mentioned countries have cadets of their navies in ARA Libertad, on invitation from the Argentine navy.
The two officers not only were disciplined but an administrative investigation was started "to establish responsibilities regarding the decision to have the tall ship ARA Libertad call in at the port of Tema in Ghana" said a release from the Defence ministry.
Gonzalez Day in statements to the media had said that the decision to visit Ghana was an "inter-ministerial decision" and the definitive evaluation of the global course of the training vessel is a "cooperative process" involving several offices from the Argentine government.
However the Ministry of Defence says is has an internal communication from Alfredo Mario Blanco modifying the original course of the frigate alleging "operational reasons" and with no previous consultation process.
The training vessel from the Argentine Navy with over 200 cadets plus the crew remains at the port of Tema since 2 October following the injunction from the NML Capital hedge fund which is demanding Argentina make effective defaulted sovereign bonds dating back to 2001 and 2002.
Argentina in two stages in the last seven years restructured 93% of its defaulted debt but the so called 'vulture funds' and particularly NML Capital, holds 1.6bn dollars in sovereign bonds and demands full face-value payment plus interest, The fund started actions in New York and London courts and is out in the world trying to get hold of Argentine assets, such is the case of the retained frigate to recoup the value of its bonds.
Argentina argues that the frigate is protected by the diplomatic immunity Vienna convention.