Chilean student demonstrations leaders honoured with human rights prize in US
Monday, October 15th 2012 - 07:06 UTC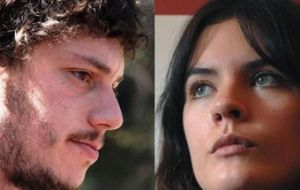 Two student leaders who have been at the head of the 18 months long demonstrations in Chile demanding an overhaul of the education system will be honoured this week with the 2012 Letelier-Moffit Human Rights Prize in representation of the Chilean Students Federation.
Noam Titelman, president of the Catholic University of Chile students federation and Camila Vallejo Vice-president of the Chilean Federation of Students have been invited by the Institute for Policy Studies which grants the prize and will also have a full agenda of contracts with university communities and other organizations such as "Occupy Wall Street" and "Occupy Washington", which last year became famous for their protests marches in New York and the US capital.
On Monday Titelman and Vallejo are scheduled to meet with the Graduates Centre from the New York University, where they will be debating on education reform with students from Quebec and New York. In the afternoon they will hold another meeting at the Hemispheric Institute.
On Tuesday they travel to Washington where on Wednesday and in the name of the Chilean Students' Confederation they will receive the Institute of Policy Studies Prize, which has been awarded since 1977 to honour of the former Chilean Foreign minister Orlando Letelier and his secretary Ron Moffitt killed in Washington by a hit-group sent by the regime of dictator Pinochet which planted a bomb in the car the victims were driving.
Among other who received the prize are the Chilean Solidarity Vicarage in 1986 (which played a leading role in the resistance to the Pinochet regime) and former Brazilian president Lula da Silva in 2003.
The two student leaders are scheduled to end their US tour on Thursday, when they will be addressing students from Harvard University at Boston.