US dominates Nobel in Economics, this time for "market design" with ethical and legal complications
Monday, October 15th 2012 - 18:39 UTC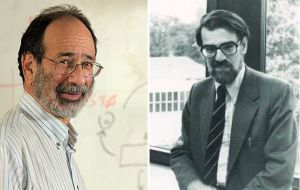 Alvin Roth and Lloyd Shapley have won the 2012 Nobel Prize in economics. The Royal Swedish Academy of Sciences cited the US academics for their work on the "theory of stable allocations and practice of market design".
The work is concerned with the best possible way to allocate resources, such as in school admissions or organs to patients who need transplants.
Mr Roth is a professor at Harvard and Mr Shapley teaches at the University of California in Los Angeles.
The committee said their work was a form of economic engineering, designing markets for situations where traditional market mechanisms based on price are not applicable or do not work well.
"Even though these two researchers worked independently of one another, the combination of Shapley's basic theory and Roth's empirical investigations, experiments and practical design has generated a flourishing field of research and improved the performance of many markets," the Academy said.
Appearing at a news conference by phone from the US, Mr Roth said: "It sheds a very bright spotlight on the work we do, so that's a good thing.
"My colleagues and I work in an area that we're calling market design, which is sort of a newish area of economics and I'm sure that when I go to class this morning my students will pay more attention."
In 1962, Mr Shapley and his colleague David Gale laid down a theory for how best to match demand and supply in markets with ethical and legal complications, such as admitting students to public schools in the US.
If these particular markets were just left according to price, then you would get what economists refer to as market failure.
This original work developed into the Gale-Shapley algorithm, which aims to ensure "stable matching" or the best possible outcome for both sides. "An allocation where no individuals perceive any gains from further trade is called stable," the Academy explained.
This is a key pillar in co-operative game theory, an area of mathematical economics that seeks to determine how rational individuals choose to co-operate.
In the early 1980s, Alvin Roth set out to study the market for newly qualified doctors.
This was a problem as a scarcity of medical students - such as that which existed in the US in the 1940s - forced hospitals to offer internships earlier and earlier, sometimes several years before graduation, meaning that a match was made before they could produce evidence of their skills and qualifications.
A clearing system was set up to try to better match medical students and hospitals. In a paper from 1984, Mr Roth studied the algorithm used by this clearing house and discovered that it was very close to the Gale-Shapley algorithm, showing that it applied in real-life situations.
The awards continue a strong US run of victories in the category of economic sciences. Forty-three prizes in economics have been awarded since 1969.
The prize was not part of the awards set out in Alfred Nobel's will and it was established in 1968 by Sweden's central bank, the Sveriges Riksbank.