Soros suggests that if Germany does not lead, it should leave the Euro
Tuesday, October 16th 2012 - 07:29 UTC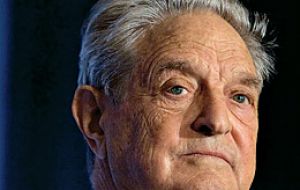 The European Union could be destroyed by the "nightmare" Euro crisis, and Germany needs to take the responsibility to save the common currency, billionaire fund manager George Soros said on Monday.
Soros, who made his mark as an investor on a big bet against the British pound in 1992, said the other alternative is for Germany -- the Euro zone's biggest economy -- to simply leave the 17-member currency bloc.
The crisis "is pushing the EU into a lasting depression, and it is entirely self-created," said Soros, chairman of Soros Fund Management.
"There is a real danger of the Euro destroying the European Union," he aid. "The way to escape it is for Germany to accept ... greater commitment to helping not only its interests but the interests of the debtor countries, and playing the role of the benevolent hegemony".
Germany should act as the leader of the EU in the same that the United States did for the free world after World War Two, Soros said at a luncheon hosted by the National Association for Business Economics.
Soros, founder of the Open Society Foundations and a founding sponsor of the Institute for New Economic Thinking, said Germany needs to step up to save the Euro and the Euro bond plan because "if it successful, it would cost very little, but if it fails, it would drag down Germany."
Issuing Euro bonds would be a way to share risk across the Euro zone.
Soros floated another solution to the more than two-year-old crisis: let Germany leave the Euro. "The problem would disappear in thin air," as the value of the Euro declines and yields on the bonds of debtor countries adjust, he said.
The International Monetary Fund and the finance ministers of some outside countries have put pressure on Germany to do what is needed to save the Euro and solve a crisis that has hamstrung the global economy. Germany is at the forefront of the Euro zone's northern creditor countries that are locked in a clash with the bloc's heavily indebted southern states over the future shape of the bloc.
Germany again said it was too soon to say that Greece - the most troubled of the Euro zone's members - needed more time to meet deficit-cutting goals, keeping fears alive that the smaller country could ultimately leave the currency bloc in what would be a messy exit.
A key problem is the uncertainty over whether Spain will ask for financial aid from the Euro zone and whether Greece can agree on new austerity measures with its lenders.
Public opinion in Germany, as well as in Finland and the Netherlands, has grown increasingly opposed to bailouts of Euro zone governments.
The notion that governments are "risk-less" is the main false assumption underlying the Euro zone, said Soros, adding it could be corrected by the introduction of Euro bonds.
"But that has become politically unacceptable by Germany," he added.