Brazil plans to double natural gas output by 2020; 21 new rigs in 2018
Thursday, October 18th 2012 - 15:56 UTC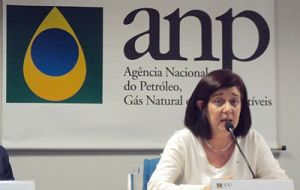 Brazil natural gas output could nearly double by 2020, reaching up to 120 million cubic-meters a day, as Latin America's largest economy increases the number of offshore platforms to take advantage of huge deep-sea oil reserves, the general director of the National Petroleum Authority, ANP, said this week.
"Between 2016 and 2018, 21 new platforms will need to start producing" said ANP General Director Magda Chambriard at an energy seminar. "This is the basic premise." The platforms are part of a Brazilian drive to develop huge oil and gas fields in the so-called sub-salt offshore region.
Ms. Chambriard said average natural gas production in Brazil in 2012 will likely be similar to the 2011 level of around 66 million cubic-meters a day. Growth this year was stymied, among other problems, by a reduction in the level of production in two large fields.
Ms. Chambriard noted forecasts are based on projects laid out by Petrobras and other companies. She also noted around 90% of Brazil's gas production comes from fields operated by Petrobras.
According to Ms. Chambriard, ANP is working toward holding the next auction for oil and gas concession rights in May, as previously announced. But she added the bidding round still depends on congressional approval for legislation dealing with royalties paid by drillers to state governments.
"For that to happen, a solution to the royalties issue will need to be reached at least 120 days before the auction," she said. "I believe there will a solution on royalties by January."
Brazil's government wants royalties to be paid more broadly to all of Brazil's 27 states. But states such as Rio de Janeiro and Espirito Santo that are getting the biggest stakes under the current system are trying to block the government bill in congress.