Mercosur conflict still alive: Venezuela expels Paraguayan diplomats
Thursday, October 18th 2012 - 07:29 UTC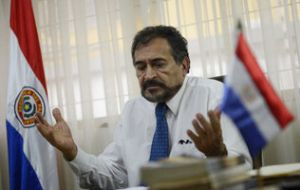 Venezuela's government decided to expel Paraguay's remaining diplomats from the country, the top envoy at the Paraguayan Embassy said on Wednesday. Charge d'affaires Victor Casartelli said that he and three other Paraguayan diplomats in Caracas were told by Venezuela's Foreign Ministry to leave within three days.
Casartelli indicated that he received a call Tuesday from the Foreign Ministry informing him of the decision and that he met Wednesday with Venezuelan officials who confirmed that the four should go by Friday.
The Paraguayan diplomat said Venezuelan officials took the drastic decision to expel them because the government of President Federico Franco did not have the 'initiative' to withdraw them when the rupture of relations in late June.
The expulsion of Paraguay's diplomats follows a bitter dispute between the countries that began in June with the congressional impeachment and removal of then Paraguayan President Fernando Lugo, an ally of Venezuelan President Hugo Chavez.
At the time Mercosur and Unasur decided to sanction Paraguay by suspending the country from the two groups until next April presidential election. Mercosur took advantage of the situation to incorporate Venezuela as full member, a move which had been repeatedly barred by the Paraguayan Senate.
In July, the two governments withdrew their ambassadors amid rising tensions over Lugo's removal. Chavez later said he had ordered his country's military attaches to leave Paraguay, citing threats against diplomats.
Casartelli said he was told by Venezuelan officials that when their government withdrew its diplomats, "they were waiting for Paraguay to do the same thing with us."
Since months passed and Paraguay didn't follow suit, Venezuelan officials decided to expel the remaining diplomats, Casartelli said. One Paraguayan Embassy employee who is not a diplomat will be allowed to remain to perform consular duties, Casartelli said.
"There are over 100 Paraguayan residents in Venezuela plus another 300 students with scholarships granted by the Chavez administration" he added.
In Paraguay, Foreign Minister Jose Felix Fernandez said in remarks broadcast by a local radio station that "Venezuela's government has a peculiar way of facing its international relations, but I won't judge it."
He emphasized that "Paraguay has another style for its diplomatic relations".
Last week the Paraguayan Senate voted to reject the so called Ushuaia Protocol which was the basis used by Mercosur and Unasur to suspend Paraguay. It also confirmed a negative vote, as member of Mercosur, regarding Venezuela's full membership.
Nevertheless Paraguayan diplomats confirmed this week negotiations between some Unasur members to lift sanctions and reincorporate the country. Apparently Chile and Colombia do not support the Unasur and Mercosur procedure to suspend the land-locked country.