Venezuela's air carrier Conviasa expands schedules with Brazilian aircraft
Thursday, October 18th 2012 - 01:26 UTC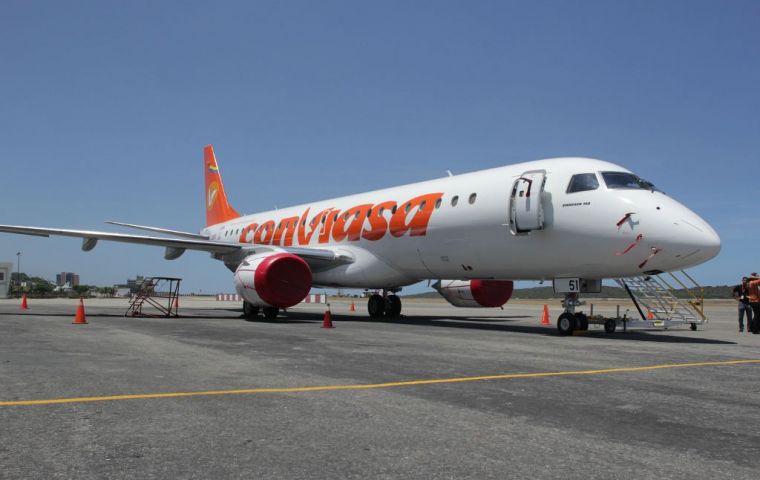 Venezuelan flag air-carrier Conviasa plans this year to expand the number of destinations from four to ten with the three, out of an order of twenty aircraft purchased to Brazil, announced on Wednesday the president of the company General César Martínez.
The first two E-190s arrived in Venezuela a few weeks ago and the third is expected before the end of the year with which Conviasa plans to increase domestic schedules from 14 to 20, said Martinez in an interview with the government's Venezolana de Televisión.
Current international schedules include Havana, Bogotá, Port of Spain and Buenos Aires. However Martinez did not point out if among the new six destinations Lima and Quito are included as he announced last 31 July when signing the deal between Embraer, Brazil's Aeronautical Corporation, and Conviasa, Venezuelan consortium of Aeronautic Industries and Air Services.
The price tag for the three E-190s was 270 million dollars. Martinez said that the E-190 has a 118 passenger capacity but following reforms the number was brought down to 104 with the purpose of "improved and exceptional comfort" for travellers.
The Brazilian aircraft will be replacing other units that their useful live has come to an end such as ageing Airbus 340-200; Boeing 737-300; Dash 7; ATR 42 and Canadian Bombardier Regional jets.
At the end of last March the European Union decided to bar Conviasa flights over its territory because of safety reasons.
At the time Elsa Gutierrez, Air and Water transport minister said the Venezuelan government had decided to invest 1.346 billion dollars in purchasing new aircraft and upgrading 25 airports in the country.