Brazil purchases high-tech oceanographic research vessel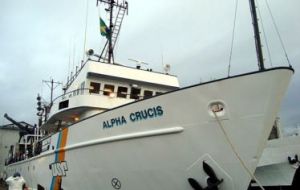 The Brazilian government announced on Monday that it will invest 162 million Reais (81 million dollars) in the purchase of a high-tech oceanography research vessel.
The ship, which will join the Brazilian fleet in 2013, "will be among the world's five best research platforms" according to a communiqué from the Science and Technology Ministry.
The acquisition will be possible thanks to an accord that contemplates financial contributions from the ministry, the navy, state-controlled oil company Petrobras and mining giant Vale, the communiqué added.
"The new oceanographic research vessel will be equipped with the most advanced technology for undersea experimentation" indicated the Science and Technology Ministry.
The ship is intended to expand Brazil's existing infrastructure for marine studies and increase knowledge of territorial waters while training human resources in a field that Brazil considers of strategic importance.
Brazil's interest in the Atlantic Ocean got a significant boost when Petrobras discovered oil reserves in very deep waters that could make the country one of the world's biggest exporters of crude.
The priority of the studies "will be to create an inventory of mineral resources and carry out bio-prospecting in waters under Brazilian jurisdiction."
Brazil currently has four vessels that can be used for oceanographic and polar studies. Three of these ships are operated by the navy, while the fourth was recently acquired by the University of Sao Paulo, Brazil's largest academic institution.