Mercosur to skip Paraguay in December and hand rotating chair to Uruguay
Monday, October 22nd 2012 - 06:27 UTC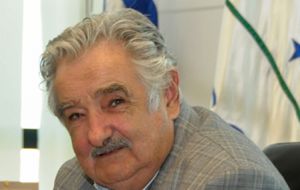 Uruguay's tenure of Mercosur rotating chair will be advanced six months meaning that at the coming summit in December Brazil will hand over the next six-month responsibility to the administration of President Jose Mujica, thus skipping Paraguay which remains suspended from the South American trade group.
The ever-strained relations between Paraguay and Venezuela, which figures as the fifth full member of Mercosur, have apparently torpedoed Brazilian diplomacy patient and laborious efforts to have a harmonious summit in December after Venezuela last week unceremoniously expelled Paraguayan diplomats from Caracas.
Retaliating to the Hugo Chavez administration attitude, Paraguay has decided to demand visas from all Venezuelans officials and diplomats travelling to Paraguay and will freeze all bilateral agreements.
"We will again demand visas from visiting Venezuelan officials and all bilateral agreements with Venezuela will remain frozen", said Foreign Affairs minister Jose F. Fernandez Estigarribia. However he added that Paraguay will honour its debt with Venezuela's oil and gas corporations, PDVSA.
"All agreements with regional impact in the framework of Mercosur and Unasur are technically frozen, since out country's rights and obligations were suspended because of the alleged rupture of democratic rule following the removal of Fernando Lugo, based on the Senate impeachment which declared him incompetent for the job, but which Mercosur and Unasur condemned", said Fernandez Estigarribia.
In practical terms relations with Venezuela are paralyzed when bilateral agreements are frozen, "diplomatically we can't yet talk of broken relations but all official business is pending by a delicate thread", added the minister.
Tensions between the Venezuelan government and the Paraguayan Senate are not new and were born following then President Lugo attempt to implement, ignoring the Legislative thirteen bilateral agreements. The documents were signed by Presidents Chavez and Lugo, the day after the former bishop took office on 16 August 2008.
Finally Lugo desisted from sending the agreements to Congress fearing they would be rejected. Furthermore despite sustained pressure from Argentina and Brazil, the Paraguayan Senate was not willing to take a vote on Mercosur full membership for Venezuela. However Venezuela was finally made full member on three votes since Paraguay had been suspended at the end of June from Mercosur, a procedure described as questionable and highly controversial.
Brazilian diplomacy meantime was working hard to try and harmonize the next summit it will be hosting trying to advance the return of Paraguay which originally had been suspended until next year's presidential election of April. Apparently under the Brazilian scheme both sides would have to yield but finally a path would have been found confirming Venezuela as full member and the return of Paraguay with all its rights and obligations.
But following the expulsion of Paraguayan diplomats; Paraguay's decision to demand visa from all Venezuelan officials and diplomats and with the Senate specifically voting against the Ushuaia Protocol (used as the legal basis to suspend Paraguay) and for the first time rejecting Venezuela's incorporation protocol, strong irritation and lack of time will most probably neutralize Brazil's diplomatic efforts.
Thus the most certain scenario is that Paraguay will remain suspended until next April and is skipped from the alphabetical rotation at the six-month Mercosur chair with Uruguay taking over from Brazil next December. (Argentina, Brazil, Paraguay, Uruguay and Venezuela are full members of Mercosur)
This could further complicate the situation because land-locked Paraguay with the smallest Mercosur economy and sanctioned by regional powers seems more the victim of abuse than of a democratic rupture. To such an extent that the Organization of American States never supported sanctions, called for transparent elections next April and a fact finding in situ mission returned with a positive report regarding the new administration's respect for human and political rights.
Furthermore two members from Unasur which last June accompanied Mercosur sanctions are having double thoughts. Chile and Colombia are expected to have their ambassadors back in Asuncion any moment, according to Paraguayan diplomatic sources.