Argentine 'soybean king' forecasts a new but "green industrial revolution"
Tuesday, October 23rd 2012 - 07:07 UTC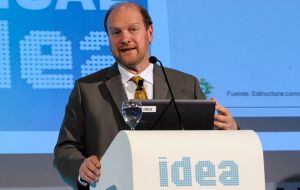 The man known in Argentina as "soybean king" said the country was facing a "new industrial revolution", but factories now won't have chimneys because they will really be "green factories".
"We are facing a major challenge, the green industrial revolution and in that scenario Argentina has a privileged position and a significant part to play" said Gustavo Grobocopatel, president of the Los Grobo Group who is Argentina's largest producer of soybeans, with the most planted hectares, during an economic forum in Mar del Plata.
He was the pioneer in forging soybean plantations at industrial level in Argentina and also has great areas sown with the oilseed in Uruguay, Brazil, Paraguay, Bolivia and Colombia.
Grobocopatel recalled that the last time he had been invited to address the IDEA colloquium on economic prospects was back in 2004 and then "I talked extensively about the potential of soybeans, which at the time was a not well known oilseed"
Eight years have gone by and Argentina had advanced: "hopefully you will invite me again in ten years time and can I tell you how we transformed Argentine agriculture into a green industrial revolution".
Grobocopatel said that Argentina not only has the commodities for the revolution but also the "scientists and biologists who are waiting to be called so they can release themselves from the bonds to government labs and commit their efforts to innovation initiatives".
"These green factories will be designed by biologists in labs which will be implanted next to the crops, the right place for the implementation of the revolutionary technology", he added.
The head of the Los Grobos group also pointed out that Argentina is moving rapidly to 'bio-economics' but underlined that 'technological transformations are not enough to face the coming challenge".
Grobocopatel called on government to lead the revolution, but before there is other challenges to combat such as "inequality, environment disruptions, and poverty and income distribution".
"The State is not prepared for these challenges because it is concentrated debating old issues with old methods, and that is why the private sector must change the paradigm of always working on its own, and collaborate with a society that is committed to the innovation project".
"We must march alongside the State" but "we also need a State with governance efficiency, looking for consensuses and that adapts to changes and adopts dialogue as the main development tool".
He added that sustainable development is not possible without innovation and for that "you need much imagination and much consumption rationality".