Australian icebreaker 'Aurora Australis' caught in packed Antarctic ice
Tuesday, October 23rd 2012 - 20:51 UTC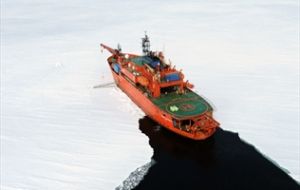 The Australian icebreaker Aurora Australis is stuck in ice 80 nautical miles from the Antarctic coast. The vessel is heading to the frozen continent with 50 scientists from around the world to study the relationship between sea ice and marine life.
The bright orange ship has been unable to move from its position - 200 nautical miles from Casey Station and 1600NM from Hobart, Tasmania, for the past two days.
"At the moment they're in some quite heavy ice which is pretty normal in those kinds of conditions," said the Australian Antarctic Division's Operations manager Robb Clifton.
"They're unable to move to the next station at the moment because of the way that ice has packed in around the ship."
Northerly weather conditions are responsible for the dense ice and the crew is waiting on a southerly weather pattern or swells to break it up. The scientists are making the most of the delay and have taken the sea ice and used helicopters to work on part of their project.
Mr Clifton said the research team and crew were in no danger. "The ship has got lots of fuel, makes its own water, lots of food and it's regularly away for a couple of months at a time," he said. "With a vessel that goes into these types of waters, you're used to delays."