German luxury car maker BMW joins Brazil automobile industry
Tuesday, October 23rd 2012 - 00:40 UTC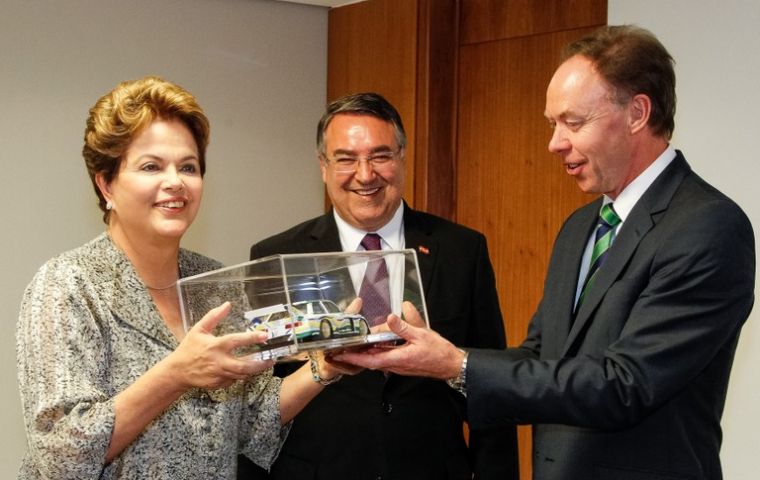 German carmaker BMW plans to build a factory in southern Brazil, a more than 200 million Euros investment expected to create 1,000 jobs. The luxury car giant hopes to start building the plant in April next year and producing cars in late 2014.
BMW vice president and sales director Ian Robertson made the announcement after presenting the project to President Dilma Rousseff.
"We had the chance to meet with the President and her team of ministers and our investment plan received strong support from the government. We hope to have the first cars rolling out towards the end of 2014. The project includes the whole line of production and assembly in Brazil" said Robertson adding that "we are proud to be the first manufacturer of luxury cars in Brazil to help develop the country's industry".
Once paperwork and administrative details are settled in the coming weeks, the agreement to set up the plant will be signed with the government of Santa Catarina state, where the factory will be located.
Robertson said plans are for capacity of 30,000 vehicles a year, although production will depend on demand. BMW dominates the luxury market in Brazil, where it sells 10,000 to 12,000 vehicles a year.
The Santa Catarina state government will have a stake in the project, its governor Raimundo Colombo said.
Brazil's car market is the fourth largest in the world, surpassed only by those of China, the United States and Japan. But Brazil is only the world's seventh largest manufacturer, producing 3.4 million units a year.
For this reason the government is pushing an ambitious incentive plan that penalizes imports and favours domestic production. The government says it expects to receive 22 billion dollars in investment in the auto sector over the next three years.