Sao Paulo police arrest former head of bankrupt Brazilian bank
Tuesday, October 23rd 2012 - 07:14 UTC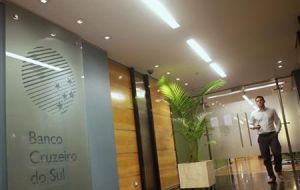 Police in Sao Paulo said on Monday they had arrested the former head of bankrupt Brazilian lender Banco Cruzeiro do Sul on charges of money laundering and crimes against the country's financial system and capital markets.
Last month Brazil's central bank ordered the liquidation of the bank and its subsidiary, Banco Prosper, after seizing the lender on June 4 due to fraud-related losses and after administrators failed to find firm takeover bids.
The liquidation of the bank represents one of the biggest collapses in the country's banking system in years.
Sao Paulo's Federal Police said in a statement that the executive was arrested at an apartment building in Cotia, a town on the outskirts of Sao Paulo city, following an investigation by its financial crimes unit which began in June.
The police said it would not release the name of the detained executive. Up until the time of the bank's seizure, it was headed by chief executive Luis Octavio Indio da Costa.
Analysts said last month when the decision to liquidate Cruzeiro do Sul was announced, that it was not a threat to the banking system but might dent confidence in mid-sized lenders and tarnish the central bank's credibility as sector watchdog.