GM to invest 450m in Argentina to manufacture a global Chevy vehicle
Thursday, October 25th 2012 - 23:51 UTC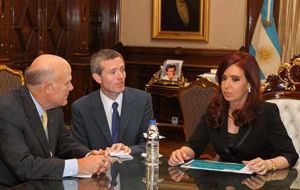 General Motors (GM) will invest 450m dollars to manufacture a new global Chevy vehicle at its Rosario Automotive Complex in Argentina. The investment will be made between 2013 and 2015 at the Rosario facility, which produced more than 136,000 vehicles in 2011.

The announcement was made following a meeting at Government House of GM CEO Dan Akerson with President Cristina Fernandez. Under the code name Project Phoenix, GM will manufacture a global platform car exclusive for Mercosur and the region.

The project means GM Argentina will add new vehicles for export as well as refurbish Chevrolet's vehicle portfolio for domestic customers and dealers.

"We are pleased to be making this investment in Argentina, which remains a very important market for us," GM Chairman and CEO Akerson said in a statement.

"We have a long, proud history here dating to 1925 and our latest investment is certainly good news for our GM Argentina employees, our extensive dealer and supplier network and the local economy", he added.

CEO Akerson headed a delegation that included GM manager for South America, Jaime Ardila; Public Affairs and Communications Vice President Selim Bingolo; GM Argentina president Isela Costantini plus the chair of the metal workers union Ricardo Pignanelli.

Cristina Fernandez met the GM delegation with Economy minister Hernan Lorenzino; Secretary of Industry, Javier Rando and Industry cabinet chief Andrea Bovris represented Minister Debora Giorgi.

"This new model to be based on a global platform will run in addition to the models we are currently manufacturing in our plant and will allow us to supply the regional and domestic market with even more high-quality, high value Chevrolet products", said GM Argentina Ms Costantini.