Spain unemployment and economic situation only comparable to Franco's days
Friday, October 26th 2012 - 21:30 UTC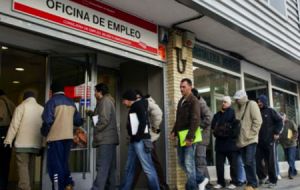 Spain's unemployment rate hit a record high in the third quarter, with one in four out of work and more expected to lose their jobs in 2013 as the next phase of government cutbacks kicks in.
At exactly 25.1%, Friday's official number was the highest since the Franco dictatorship ended in the mid-1970s, and gives fresh impetus to calls by labour unions for a general strike next month. The number out of work stood at 5.8 million.
That action is part of an increasingly vocal protest campaign against successive waves of spending cuts and tax hikes that, critics argue, has only served to put more people out of work rather than getting to grips with Spain's economic crisis.
Of European Union countries only Greece, mired in an even more brutal recession than Spain and battling to stave off bankruptcy, has a higher jobless rate.
Friday's data puts further pressure on the government of President Mariano Rajoy as it debates whether to seek international aid while it battles to bring down the public deficit in line with European Union demands in a recession that shows no sign of letting up.
Government forecasts show the economy contracting next year by 0.5%, but private estimates say the situation could be worse.
Spain's financing needs are largely covered for this year, and its cost of borrowing from debt markets has eased significantly since August thanks to the European Central Bank's promise to buy the country's bonds should it call for financial help.