Falklands' Desire Petroleum plans for the next three years
Wednesday, October 31st 2012 - 23:13 UTC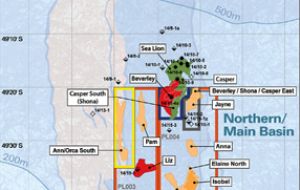 Planning ahead for the next three years Falkland Islands Desire Petroleum announced on Wednesday changes to its Production Licences following approval received from Executive Council.
Desire's Production Licences (PL003, PL004 and PL005) will be grouped together with collective requirements for all three licences. These licences contain the successful Sea Lion extension and all other oil and gas discoveries.
According to an official release from the company, the existing work commitments under Phase 2 of the licence period have been confirmed as satisfied and the Phase 2 licence period has been extended to May 2016 with an additional one well work commitment during this period.
Furthermore no relinquishment is required while this licence group remains in Phase 2. Normal relinquishment provisions will apply should the Licence Group move into Phase 3. Likewise acreage rentals will remain at current levels of 60 US dollars per km2 for the duration of Phase 2.
The release also points out that Desire Petroleum has relinquished production licences PL006 and PL007. "A mature source rock is unproven in this area, and the only significant prospectivity in the licence areas was tested by the 25/5-1 well which encountered only gas shows".
Desire Petroleum CEO Stephen Phipps thanked the Falklands' government for the review and reaffirmed its commitment to continue exploring in the North Falkland basin.
"We are extremely pleased with the changes to our licences, and thank the Falkland Island Government for their understanding in agreeing our revised licence terms. Desire now has over three years in which to further explore its highly prospective key licence areas in the northern part of this basis", said CEO Phipps.