Gibraltar willing to enter a double taxation treaty with Spain
Wednesday, October 31st 2012 - 23:34 UTC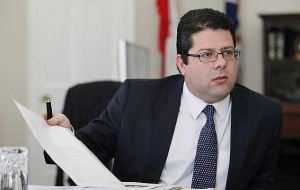 Gibraltar said it complies with European Union and OECD regulations regarding finance centres and also indicated that it was willing to enter a double taxation treaty with Spain.
"Gibraltar is a well regulated EU finance centre and not a tax haven or 'paraiso fiscal'" said Chief Minister Fabian Picardo during a question and answer program in the Spanish channel, Canal Sur.
Picardo added that Gibraltar has tax information exchange agreements (TIEA) with 29 countries including United States and other EU countries. "Gibraltar finance centre is subject to all legal EU regulations," he declared.
He also underlined that the Gibraltar government was willing to enter into a double taxation treaty with Spain.
Picardo said that within that overall framework there was scope for finance centres to be more or less competitive and Gibraltar's competitiveness was like that of Malta, Cyprus and Hungary.
The Chief Minister said there was constant harassment from Spain on this subject including accusations that Gibraltar was involved in 'pirate' tax haven activities, which he rejected point blank.