Sandy's destruction along the US East coast estimated in 20bn dollars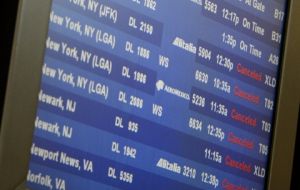 Businesses on the US East Coast have continued to be disrupted by storm Sandy, with total damage estimated at between 10bn and 20bn dollars. Sandy has flooded subway and road tunnels in much of Lower Manhattan.
Beyond New York City, public transport has been halted in several eastern US cities, and thousands of flights have been grounded. At least six million are currently without power, a situation that could persist for several days.
Sandy threatens a 1.290-km swathe of the US, from the Atlantic Ocean to the Great Lakes in the Mid-West and killed 66 people in the Caribbean last week before pounding the East Coast of the US.
The storm has closed thousands businesses and severely affected the infrastructure of the nation. The closure of public transport along the US East Coast means millions of people are unable to get to work.
Air traffic to and from the region has also been severely disrupted and nearly 14,000 flights were cancelled, potentially hurting airlines that were already struggling in the weak economy.
Amtrak has suspended passenger train services across the north-east.
The UN headquarters in New York is also to stay closed, while public transport was suspended in Washington DC, New York, Baltimore, Philadelphia and Boston.
Peter Morici, an economist and professor at the University of Maryland, estimated that some 15bn to 20bn will likely be spent on rebuilding after the storm, which could create as much as 36bn in an "economy with high unemployment and underused construction resources".
"When government authorities facilitate quick and effective rebuilding, the process of economic renewal can leave communities better off than before in many tangible ways."
"It will be days before we can know the full extent of the damage left behind by Hurricane Sandy in New York City and the rest of the state," sadi Rob Lillpopp, a spokesperson for the Business Council of New York State.
"We are just a year removed from Hurricane Irene, and what we learned from that devastating storm is that small and large businesses can and will pull together to recover."
In Europe, shares in Swiss Re rose 1.3% and Munich Re shares were also higher. The two companies are re-insurers - they insure insurers, who will have to pay out a large amount to businesses and individuals affected by Sandy