Wall Street returned to life with average trading volume; most buildings in the area with no power
Thursday, November 1st 2012 - 06:40 UTC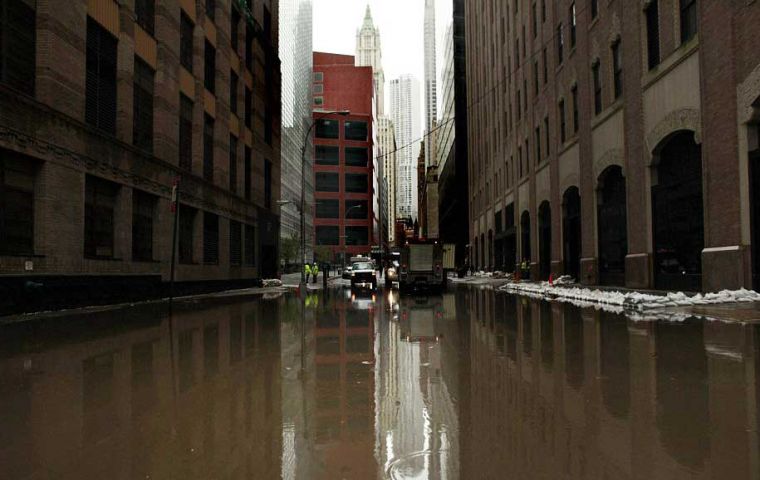 The US stock market slowly returned to life on Wednesday after two days in the dark, in the wake of the massive storm Sandy that caused the market's first weather-related two-day closure since the late 19th century.
The Dow and the S&P 500 closed little changed while the Nasdaq Composite edged lower in a session with slightly less than average volume.
Traders made it through the darkened streets of downtown Manhattan before sunrise to the New York Stock Exchange at 11 Wall Street, one of the only buildings with any electricity in that area after Sandy crippled power supply and disrupted mass transit throughout the New York metropolitan region.
The two-day weather-related break was the stock market's first multi-day closure for weather since 1888. It was a rare occurrence that affected long-time floor traders, the small corner of human element still left in a market that has become mostly electronic. Floor traders have opened after adverse events in the past, with the last weather-related closure resulting from Hurricane Gloria in September 1985.
Trading volume was average, with about 6.3 billion shares exchanging hands on the NYSE, Nasdaq and NYSE MKT. Daily average for 2012 through last Friday was 6.51 billion shares.
"The open was a positive relief after four days of sitting on edge," said Larry Leibowitz, the chief operating officer at NYSE operator NYSE/Euronext. "No matter how much planning you do, you can't foresee that kind of flooding."
Not everything was working as usual. Cell phone reception was sketchy on the floor of the NYSE, so traders were mulling around outside the exchange building making calls, texting and emailing on their phones.
Market participants on locations outside Manhattan also reported some normalcy, though the lack of electric power in the region was a hurdle, and forced many to rush to the pump to keep generators running.
For the month of October, the Dow fell 2.5 percent, the S&P 500 lost 2 percent and the Nasdaq dropped 4.5 percent.
On Wednesday also European stocks dipped led by heavyweight British oil and gas firm BG Group after it warned it would show no production growth next year.
The FTSEurofirst 300 closed down 0.5% at 1,097.54, reflecting weakness on Wall Street. In Asia, Japan's Nikkei share average advanced as investors took comfort that some firms, such as Hitachi Ltd and Komatsu Ltd, did not cut their full-year earnings guidance as feared.