Chavez promises attendance, God willing, to Mercosur summit in Brasilia
Friday, November 2nd 2012 - 06:44 UTC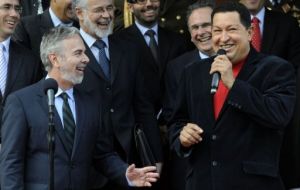 President Hugo Chavez said on Thursday that he will be attending the coming Mercosur presidential summit next 7 December in Brasilia and assured Venezuela is speeding up so the country can display all its potential within the political and trade block.
"Brazilian Foreign minister (Antonio) Patriota brought the invitation to attend the summit in Brasilia, December 7, and God willing, we will be present at the summit of Mercosur presidents", said Chavez speaking at the Presidential Palace.
Chavez told the media that Mercosur was "the main issue of discussions" in the meeting with Patriota, which was also attended by Venezuelan Vice-President and Foreign minister Nicolas Maduro and Brazilian Minister of Industry, Alessandro Teixeira.
"We're speeding up everything, it's time to really get moving", added Chavez who revealed that by the time of the summit he expects that the Mercosur nomenclature issue will have concluded.
Admitting it takes time but is moving at a good pace, Chavez said that the issue was most important for "activating trade and development of the two countries to a higher level of cooperation".
"We're committed to have the agreement on the common external tariff nicely tight and bound", said Chavez who last 7 October managed his third consecutive re-election which will see him in office until 2019.
Venezuela became a Mercosur full member last July 31 following the suspension of Paraguay whose Senate had been blocking the incorporation of Venezuela. Paraguay was suspended following the removal from office of Fernando Lugo, who was then replaced by President Federico Franco.
The Senate impeached Lugo for incompetence, with an overwhelming vote but Mercosur and Unasur argued Paraguay had undergone "a democracy rupture" and decided the suspension until next year's presidential election in April.
"I'm sure that in a few months, let's hope it works out that way, we will be seeing the reincorporation of Paraguay, when democracy returns" affirmed Chavez in clear reference to the April ballot.
Chavez again called on the Venezuelan private sector for potential exporters to attend the roundtables organized by the government to support trade with Mercosur.
"We are obliged and we will give support in all we have and can: credit, financing, technology to increase production and working every day to improve our export capacities with our Mercosur brothers", emphasized the Venezuelan leader.
In Brasilia with the absence of Paraguay, suspended, and although not officially announced, the rotating chair will pass from Brazil to Uruguay, skipping Paraguay, which according to alphabetical order was its turn.
The visit to Venezuela of the Brazilian minister and Chavez statements hoping for a quick return to democracy in Paraguay seem addressed to the landlocked country where there are insistent statements from different conservative political sectors claiming that Mercosur will not recognize the results of the April presidential election.
This is based on the fact that the Paraguayan Senate last month formally voted for the first time on Venezuela and overwhelmingly rejected her incorporation to Mercosur and likewise with the Ushuaia II Mercosur declaration which was used as the legal foundation to suspend Paraguay from the political and trade block.
If as all indicates the next Paraguayan president will be conservative with support from the Senate that did not accept Venezuela as a member, Mercosur will have in its hand a serious, divisive legal problem since all new incorporations must be unanimous.
To prevent this situation, according to several Paraguayan Senators, Mercosur wants ousted Lugo to run again next April, which will lead to a prolonged constitutional discussion, since re-election or two consecutive mandates are specifically banned under the Paraguayan constitution.
Impeding Lugo from running can then be interpreted by Mercosur (and Unasur) as an excuse to keep Paraguay suspended since the "minimum democratic pre-electoral guarantees have not been respected".
The significance of Venezuela's incorporation to Mercosur is clearly evident in the description of the expanded group by Itamaraty, the Foreign ministry.
"With the entry of Venezuela, Mercosur has now a population of 270 million inhabitants (70% of South America population), GDP at current prices of 3.3 trillion dollars (79.6% of South American GDP) and a territory of 12.7 million km2 (72% of South American area), extending from Patagonia to the Caribbean and asserting itself as a global energy power".