South African minister admits a second Argentine navy vessel could be impounded
Saturday, November 3rd 2012 - 04:07 UTC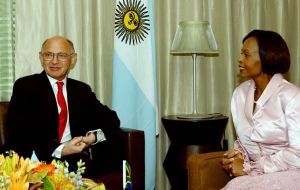 When Argentina still has not recovered from the impounding of the Navy's flagship, ARA Libertad, retained in Ghana, another piece of bad news was confirmed in Pretoria on Friday when South African Foreign minister admitted that a second navy vessel, ARA Espora, docked in Simonstown was exposed to a similar fate.
"We are aware. The ministry of Defence has been informed and he is following the issue" said South African Foreign Affairs and Cooperation minister Maite Nkoana-Mashabane during a press conference next to Argentina's Hector Timerman.
The ministers met in Pretoria in the framework of a bilateral committee round of contacts to foster trade, investment, cooperation in several fields and political links between the two countries.
In Buenos Aires there are fears that the corvette, which was participating of a South Atlantic naval exercise but suffered a mechanical breakdown and is docked in South Africa's naval base of Simonstown waiting for spares since October 25, could also end up impounded.
The hedge fund NML Capital (or 'vulture fund' as referred to in Argentina), successful with the month long impound of ARA Libertad, has contracted one of the top Cape Town law firms allegedly with the purpose of targeting the ARA Espora.
"We exchanged opinion on the different ways to address the negative impact of the 'vulture funds' activities in debt restructuring processes and development strategies, particularly in Africa and Latinamerica", Timerman was quoted by the Pretoria media, more or less the same wording in the joint declaration following the bilateral meeting with his South African counterpart.
Nevertheless Timerman avoided expanding on the issue and said he was confident "that the rule of law would prevail" as has happened in other similar situations.
"We are working to recover our frigate" said Timerman insisting that under international law, "warships can't be impounded" and that according to the Legal council from the UN "there are no similar cases on record".
"We've had 28 impound attempts on Argentine assets all over the world, mainly our embassies properties and we have recovered them all in just a few months", revealed Timerman.
"The vulture fund is responsible for this. It is looking to embarrass Argentina and force us into negotiations with them which we are not going to do," he sadded.
However the Ghana courts accepted the impound request from NML Capital which holds sovereign bonds and claims 370 million dollars from Argentina in capital and interest. Argentina successfully restructured its defaulted 2002 sovereign debt in 2005 and 2010 but there is 6% of holdouts, apparently 1.6bn dollars in the hands of hedge or 'vulture' funds.
The Argentine government insists that Ghana is infringing the Vienna Convention which guarantees immunity to embassies and war ships among other assets.
However the Ghana court which is demanding a bail of 20m dollars to release ARA Libertad argues that on issuing sovereign bonds with specific clauses admitting reimbursement options, Argentina is not covered with the Vienna convention.
Argentine president Cristina Fernandez has repeatedly argued it will never pay 'vulture funds' but will honour the rest of Argentina's debts for which it has sufficient dollars. She also claims there is an anti-Argentina campaign sponsored by these hedge funds and the IMF.
ARA Espora is the lead ship of the (German) MEKO 140A16 Espora class of six corvettes with a displacement of 1.790 tons, built for the Argentine Navy.