G20 puts the US 'fiscal cliff' as the biggest short term threat to global growth
Monday, November 5th 2012 - 13:45 UTC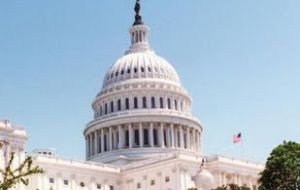 The leading world economies pressed the United States on Sunday to act decisively to avert a rush of spending cuts and tax hikes, warning that the so-called 'fiscal cliff' is the biggest short-term threat to global growth.
Unless a fractious Congress can move swiftly to reach a deal after the US elections on Tuesday, about 600 billion in government spending cuts and higher taxes are set to kick in from January first and could push the US economy back into recession.
"If the United States fails to resolve the fiscal cliff it would hit the US economy hard as well as the world and the Japanese economy, so each G20 country will urge the United States to firmly deal with it," Bank of Japan Governor Masaaki Shirakawa said before a meeting of Group of 20 finance ministers and central bankers.
With a close US presidential vote looming on Tuesday, as well as Congressional elections, there has been a delay in action to avert the fiscal cliff and there is uncertainty about whether Congress can reach a deal.
European delegates at the G20 meeting in Mexico City were particularly keen for details on the US plan, according to those present at preparatory talks.
Canadian Finance Minister Jim Flaherty said that in terms of short-term risks to the global economic outlook, the US fiscal cliff outweighed Europe's debt crisis.
"They may not deal with it until the 11th hour and the 55th minute but I expect that they'll do it just as they dealt with their banks in 2008," he told reporters.
South Korean Finance Minister Bahk Jae-wan forecast the global economy could suffer during the first quarter of 2013 because of uncertainty about the fiscal cliff.
Nonetheless, he too was counting on Congress being able to find some kind of fix: "I think compared to the euro zone crisis the fiscal cliff issue is much easier to solve".
The Euro crisis, which erupted more than two years ago, has eased after the European Central Bank said in September it was ready to buy more government debt. But investors are edgy about when or whether Spain will request an international bailout and how Greece's deep financial problems can be fixed.
"Global growth remains modest and risks remain elevated, including due to possible delays in the complex implementation of recent policy announcements in Europe, a potential sharp fiscal tightening in the United States and Japan, weaker growth in some emerging markets and additional supply shocks in some commodity markets" said a draft declaration from G20 meeting.
G20 officials said t he wording on Europe referred to differences among European governments over how to build a banking union, considered an important way to bolster the bloc's shaky financial system, during 2013. France, Spain and Italy have been frustrated with German demands for the new scheme.