World's most expensive palatial house in London on the market for 100 million pounds
Monday, November 5th 2012 - 12:46 UTC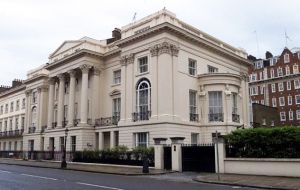 The world's most expensive four-storey palatial house, in London's plush neighborhood has gone on the market at a staggering 100 million pounds. One Cornwall Terrace is a Grade 1 listed mansion overlooking Regent's Park in London.
The breathtaking property is spread across 21,500 sq/ft and boasts seven bedrooms, nine bathrooms and 11 reception rooms, according to a report from the Daily Mail.
It is being marketed by Savills with an asking price of 100 million pounds or 4.651 pounds per sq/ft, making it one of the most expensive houses ever put up for sale in England. At this mega price, the buyer would have to pay 7 million pounds in stamp duty alone.
But they would also pay just 1,369 pounds-a-year in council tax, the same as a 320,000 pounds property with Westminster Council, the second cheapest borough in London.
Cornwall Terrace was originally designed and built in the 1820s by renowned architect Decimus Burton with the project overseen by the acclaimed John Nash.
The front of the home has a neo-classical Stucco elevation with Corinthian pilasters and a grand two-storey bay embellished with sculpted female columns of the Greek goddess Artemis.
It became the official London residence of the New Zealand High Commissioner from 1955 until the 1970s, playing home to lavish parties frequented by royalty and other members of high society.
Savills refused to discuss the end-of-terrace property, but the lavish brochure gives an incredible insight into the home's level of luxury.
Described as "one of the most important private residences in London", the luxurious home has had a no expense spared makeover to be transformed into one of the capital's premier "trophy homes".
It boasts a mixture of classic and contemporary features from marble and limestone-lined halls to iPad-controlled lighting.
There is also a sports complex which includes a gym and swimming pool and the high-tech gates have an automatic number plate recognition system.
Outside, the mansion has a beautiful 40-metre long landscaped garden and a grand double staircase which connects the terrace and landscaped areas. Cornwall Terrace is named after King George IV, who also known as the Duke of Cornwall