BG Group/Argentina appeal case reaches US Supreme Court
Tuesday, November 6th 2012 - 21:39 UTC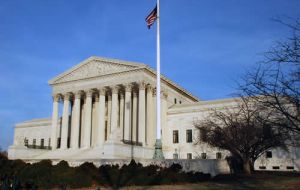 The US Supreme Court on Monday asked for the US government's views on a British Gas Group PLC appeal that seeks to restore a 185 million dollars arbitration award the company won against Argentina in 2007.
A federal appeals court in Washington tossed out the award in January, ruling that the British energy company took the case to arbitration prematurely. The justices, in a short written order, asked the US solicitor general to file a brief expressing the government's views on whether the high court should review the case.
BG invested in Argentina's natural-gas distribution sector in the early 1990s and says the country destroyed that investment through several emergency actions it took during its 2001-2002 economic crisis. The company also accused Argentina of adopting a scheme to stymie any lawsuits challenging its actions.
BG took its legal complaint to arbitration under rules set out in a 1990 treaty between Argentina and the United Kingdom. The treaty required plaintiffs to litigate in Argentina for 18 months before resorting to arbitration, but BG said it couldn't seek recourse in Argentina's courts because the government threatened litigants with serious penalties if they challenged its emergency measures.
The arbitral panel based in Washington, awarded BG 185 million dollars after finding that Argentina violated the treaty by failing to provide fair and equitable treatment to investors.
Argentina then brought a legal complaint in US federal court seeking to overturn the award. A trial judge sided with BG, but the US Court of Appeals for the District of Columbia Circuit reversed that decision and ruled for Argentina. The DC Circuit ruled unanimously that the arbitration wasn't valid because BG didn't take its case to Argentina's courts first.
The case is BG Group v. Republic of Argentina, 12-138.