Chilean ambassador return to Paraguay 'when electoral process begins'
Friday, November 9th 2012 - 06:41 UTC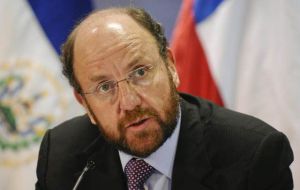 Chilean Foreign minister Alfredo Moreno said on Thursday it had not been decided when Chile's ambassador to Paraguay, Christian Maquieira would be returning to Asuncion and pointed out that the diplomat continues "in consultations" with Santiago, following the removal of former president Fernando Lugo.
Minister Moreno statement follows news from Asuncion from his peer Jose Felix Fernandez Estigarribia who announced that ambassador Maquieira would be returning over the weekend to Paraguay which in fact would mean the Chilean government recognizes the new administration of President Federico Franco.
"Our ambassador is in consultations in Santiago, so this means he can return to Paraguay any moment. We are following closely events" said Moreno in the sidelines of the bi-lateral meeting of Chilean and Argentine ministers in Buenos Aires. Cabinet ministers from the two countries hold regular meetings alternatively.
"Today we have no decision taken, but our ambassador is working in Santiago. Therefore we can say that it is a temporary situation", said Moreno who nevertheless suggested that Maquieira's return could coincide with the beginning of the campaign for the presidential elections of April 2013.
He added that in December Paraguayan parties will be holding primaries in Asuncion and parties have just closed the registry for electoral alliances. "We want to follow this process very closely and ambassadors' duties, one of many, are to cooperate with these tasks, so we'll see when he returns to Asuncion".
Paraguay was suspended from Mercosur and Unasur last June 22 because of the removal of Lugo and his replacement by Franco. The Paraguayan Senate impeached Lugo and overwhelmingly decided to oust him. The two regional organizations interpreted the political event as a 'rupture of the democratic process".
Asked if the return of ambassador was to be a collective decision from Unasur, Moreno replied that even when the decision to suspend Paraguay was 'unanimous', on the return of diplomats 'there is no agreement'.
"All decisions in the matter inside Unasur have been unanimous regarding the suspension of Paraguay based on our appreciation of events, but regarding ambassadors each country has acted completely differently from the very beginning. There is no agreement on that".
Minister Fernandez Estigarribia had also announced earlier in the week that Colombian ambassador Alberto Barrantes would be flying to Asuncion on the weekend to resume duties at the embassy. However Bogotá on Thursday has not confirmed the news.