EU and ten Latinamerican countries end 20-year 'banana dispute'
Friday, November 9th 2012 - 06:05 UTC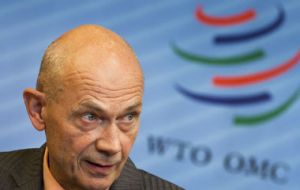 The European Union and ten Latinamerican countries signed an agreement on Thursday settling the longest running series of disputes in the history of the multilateral trading system, better known as the 'banana dispute'.
"This is a truly historic moment," said World Trade Organization, WTO, Director-General Pascal Lamy. "After so many twists and turns, these complicated and politically contentious disputes can finally be put to bed. It has taken so long that quite a few people who worked on the cases, both in the Secretariat and in member governments have retired long ago."
Mr Lamy distributed to the countries concerned legally certified copies of the EU revised commitments replacing, with tariffs only, a complicated and WTO-illegal banana import regime. These banana import tariffs decline annually to 114 Euros per ton. The EU revised commitments include the 2009 Geneva Banana Agreement. The WTO is the depository of these revised commitments, which have now been accepted by the WTO membership.
Dispute Settlement Body chair-person Shahid Bashir, who is Pakistan's ambassador, presided when the EU and the 10 Latin American countries signed a "mutually agreed solution", officially closing the legal disputes over bananas between the EU and Latin American countries.
One positive feature of the disputes is that they have provided a "rich source of jurisprudence" on WTO law, he said.
The Latin American countries present were: Brazil, Colombia, Costa Rica, Ecuador, Guatemala, Honduras, Mexico, Nicaragua, Panama, Venezuela and Peru (which did not sign the mutually agreed solution because it was not directly involved in the disputes but participated in some key negotiations). Some had brought legal dispute cases against the EU, others were involved in other issues, including negotiating the EU new commitments to take into account its enlargements to include new members.
The Geneva Banana Agreement was agreed by the EU, the Latin American countries and the US in December 2009.
Since then a number of legal steps were required, including each country ratifying the 2009 agreement and the EU introducing legislation and regulations to implement it. Having been accepted by the WTO membership as part the EU new commitment, it is now multilateral.
The disputes date back to 1992 under the General Agreement on Tariffs and Trade (GATT). They continued when the GATT became the WTO.
The EU imports tariffs had favoured imports from former European colonies.