Colombia breaks isolation ring imposed on Paraguay by Unasur
Saturday, November 10th 2012 - 06:08 UTC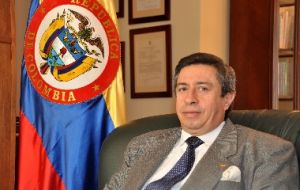 Colombia confirmed on Friday that its ambassador in Paraguay, Alberto Barrantes had returned to Asunción, four months after the political crisis triggered by the removal from office of Fernando Lugo and his replacement by President Federico Franco
"The ambassador is in Paraguay", said a spokesperson for the Colombian Foreign ministry without giving further details as to since when, and the reason for his return which had been anticipated by Paraguayan Foreign minister Jose Felix Fernandez Estigarribia.
At the time the minister Fernandez said that the return of the Colombian diplomat was "a unilateral decision" which he described as 'positive' and at the same indicated he was confident that following on ambassador Barrantes, other diplomats from Latinamerican would be coming before the end of the year.
"It is the government of Colombia that having finished the consultation process in Bogotá with its ambassador has sent him back to his post in Asunción", said the Paraguayan minister.
In practical terms it means the end of the isolation ring implanted on Paraguay by Mercosur and Unasur following the June 22 political impeachment of Lugo by the Senate that overwhelmingly removed him for 'incompetence in the exercise of his responsibilities".
The decision was not accepted by the two regional groups that then agreed to suspend Paraguay until the next presidential election on April 2013.
It also means that there is no chance of a shared decision by all Unasur country members to have all their ambassadors return to Paraguay.
Argentina, Brazil, Ecuador, Venezuela, Uruguay, Chile, Colombia and Peru withdrew their ambassadors or called them on consultation following the decision by Unasur and Mercosur of suspending Paraguay for what they described as a "rupture of the democratic process".
Minister Fernandez Estigarribia also expressed optimism on Friday regarding the return of the Chilean ambassador Christian Maquieira, who his Chilean peer did not confirm or advanced any decision on the issue.
But the Paraguayan official insisted: "my colleague Moreno said that no decision had been taken yet, but he also said that the electoral process in Paraguay had started and it was the job of ambassadors to follow that process".
Besides he added, "Chile and Colombia have supported us strongly at the Organization of American States and I believe we have a strong relation; they have acted very constructively which is highly positive for Paraguay".
"It's not an easy situation but we are working it out. We must be optimists", insisted Fernandez Estigarribia.