Iberia survival plan: slash quarter of jobs, cut 15% network and downsize fleet
Saturday, November 10th 2012 - 04:40 UTC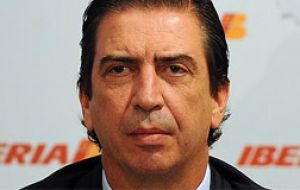 Loss-making Iberia on Friday announced plans to axe 4.500 jobs to save Spain's biggest airline from collapse and warned more cuts could follow against the backdrop of economic crisis in the Euro zone country.
"Iberia is in (a) fight for survival," Iberia's chief executive Rafael Sanchez-Lozano said in a statement issued by parent group International Airlines Group (IAG), which also owns profit-making British Airways.
Iberia "is unprofitable in all its markets. We have to take tough decisions now to save the company and return it to profitability," said Sanchez-Lozano.
"Unless we take radical action to introduce permanent structural change the future for the airline is bleak. However this plan gives us a platform to turn the business around and grow," he added.
Sanchez-Lozano said that "the Spanish and European economic crisis has impacted on Iberia, but its problems are systemic and pre-date the country's current difficulties."
IAG said it was announcing "a comprehensive plan to save Iberia after record losses".
The parent group unveiled a "reduction of 4.500 jobs to safeguard around 15.500 posts across the airline" -- meaning Iberia was on course to shed almost one quarter of its staff. IAG added that a deadline of January 31, 2013 had been set to reach agreement with unions over the cuts.
"If agreement is not reached, deeper cuts and a more radical reduction in the size and scale of Iberia's operations will take place to secure the natural long haul traffic flows at Madrid and safeguard the company's future," IAG said.
Spanish unions quickly rejected what they called an "aggressive plan" to "dismantle" Iberia. "We will not negotiate at all on this plan. We totally reject it and have told the management as much. We demand that they withdraw it" said a UGT union spokesman.
To stem Iberia's cash losses by mid-2013, the Spanish airline plans to slash its network capacity by 15% and downsize its fleet by 25 aircraft, including five long-haul jets.
"Iberia has many advantages. It has an excellent geographical position to serve Latin America, along with historical ties; a strong brand and the ability to grow long term at it hub," the airline said.
Separately on Friday, IAG announced that the parent group's net profits dropped 24 percent in the third quarter compared with the equivalent period last year, hit by losses at Iberia.
IAG said in an earnings statement that profit after tax fell to 202 million Euros in the three months to September 30 compared with net profit of 267 million Euros in the third quarter of 2011. The group added that Iberia had made an operating loss of 262 million Euros in the nine months to September 30, offsetting an operating profit of 286 million Euros at British Airways.
"We want Iberia to be strong and successful," IAG chief executive Willie Walsh said on Friday. "This turnaround plan is critical for Iberia and for the future of Spain. A strong and profitable Iberia can create jobs and boost tourism," he added.