Major group plans cash-tender offer for low cost airline Barcelona-based Vueling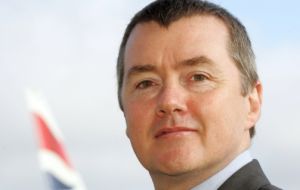 International Airlines Group has reaffirmed that it would keep Vueling as a stand-alone entity within the group if it completes its plan to acquire the outstanding shares in the Barcelona-based low-cost carrier.
IAG unit Iberia already holds a 45.85% stake in Vueling and under a proposed cash tender offer to take place next year, IAG is seeking to acquire the remaining 54.15% which it will hold separately from its Spanish operation.
"I think it's a very good company with an excellent management team and we are going to let them get on with what they do best," said IAG chief executive Willie Walsh, speaking during a presentation to investors.
"The most effective value can be achieved by Vueling being a standalone brand and operating company within IAG. We think it adds value as is."
He adds there are no plans to merge the carrier with recently launched Madrid-based short-haul operator Iberia Express. "We are not looking to integrate it with Vueling, which will be a standalone company with a focus primarily on Barcelona," he says, adding he believes it would be sub-optimal to combine the two different airlines.
IAG which is also British Airways parent company announced it will make a cash tender offer for Vueling in the first quarter of next year. It values the Barcelona-based company at €7 a share or a total of €113.3 million.
An application for authorisation of the offer, along with the prospectus and other legal documents, will be submitted within the next month to Spain's market regulator, the Comisión Nacional del Mercardo de Valores, and subject to its approval, the offer will be launched to Vueling's shareholders in the first quarter of 2013.
If accepted, the deal is expected to complete in the second quarter of next year. The transaction is not subject to regulatory approval by the European Commission, says IAG, although does not provide further details.
The group has created Veloz Holdco SLU to undertake transaction and will launch the offer exclusively on the Spanish stock market. This means IAG subsidiary Iberia will retain its 45.85% shareholding in Vueling with IAG seeking to acquire the remaining 54.15%.
"With its leading position in Barcelona, European growth strategy and low-cost base, Vueling has much to offer IAG. It has significantly increased capacity while remaining profitable, despite the Spanish economic slowdown, and already has extensive commercial arrangements with Iberia," says IAG chief executive Willie Walsh.
At 30 September 2012, Vueling's total assets amounted €805 million. It operates 57 Airbus A320-family aircraft and recently unveiled major expansion plans for next summer which will see it add 28 new destinations from its Barcelona El Prat base.