Next week takes off the 'fiscal cliff'' battle with meeting in White House of party leaders
Saturday, November 10th 2012 - 05:08 UTC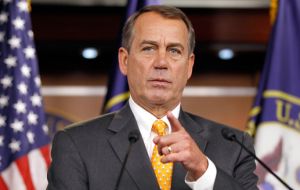 Newly re-elected President Barack Obama said on Friday the wealthy must pay more taxes under any political deal to avert a looming budget crisis. He said Congress must act against the so-called fiscal cliff, a package of tax rises and spending cuts due early next year.
Mr Obama said he was inviting party leaders to the White House next week to discuss the issue.
Budget analysts warn the US will tip into recession unless a deal is struck. Obama has repeatedly called for the affluent to pay more, but such a plan is anathema to Republicans.
The fiscal cliff would see the expiry of George W Bush-era tax cuts at the end of 2012, combined with automatic, across-the-board reductions to military and domestic spending.
Talking from the East Room of the White House re-elected Obama said: "If we're serious about reducing the deficit, we have to combine spending cuts with revenue. And that means asking the wealthiest Americans to pay a little more in taxes."
The president added he was "open to compromise" and new ideas, adding: "I'm committed to solving our fiscal challenges, but I refuse to accept any approach that isn't balanced."
Tax rises were a "central question" during the election campaign, Mr Obama said, and "the majority of Americans agree with my approach".
The IMF has repeatedly warned that failure by US lawmakers to reach a deal would deepen uncertainty over the global economy. Investor concerns over the issue have been partly blamed for two straight days of losses on financial markets this week.
Earlier on Friday, John Boehner, leader of the Republican-controlled House of Representatives, held a news conference and suggested "special-interest loopholes in the tax code, both corporate and personal" could be eliminated.
Mr Boehner, who has struck a conciliatory tone to the president since his re-election, also restated his support for "entitlement reform as well as tax reform with lower rates".
The head of the Republicans in the Lower House also cited a Congressional Budget Office (CBO) report on Thursday which warned the US economy would fall back into recession if no deal were struck on the fiscal cliff.
The analysis projected that the package of tax rises and spending cuts would cut the ballooning US deficit by 503bn dollars through to next September. But could also shrink the economy by 0.5% and cost millions of jobs.
In an interview with ABC News on Thursday, Mr Boehner said: "Raising tax rates is unacceptable. Frankly, it couldn't even pass the House. I'm not sure it could pass the Senate."
But an Obama official said the president's oft-stated call for tax rises on the wealthy has been vindicated by his resounding victory over Republican challenger Mitt Romney in Tuesday's election.
"[Voters] clearly chose the president's view of making sure that the wealthiest Americans are asked to do a little bit more in the context of reducing our deficit in a balanced way," said senior White House adviser David Plouffe.
President Obama's position has been that taxes should rise on earnings above 250.000 dollars.