Republican Party needs a "bigger tent" to adapt to changing demographics
Saturday, November 10th 2012 - 05:01 UTC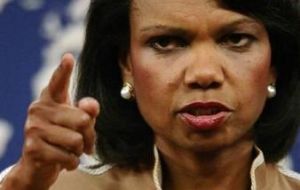 Former US Secretary of State Condoleezza Rice said the Republican Party must adapt rapidly changing demographics in the United States to remain politically relevant.
Rice said during a Friday morning appearance on CBS' This Morning" show that the GOP sent "mixed messages" in the election campaign on immigration and women's issues.
On the immigration issue, which turned out to be very important, and some issues about women too, "some mixed messages were sent," she said. "And when you send mixed messages through the narrow funnel that is the media spotlight sometimes people hear only one side of that message."
"Right now, for me, the most powerful argument is that the changing demographics in the country really necessitate an even bigger tent for the Republican Party," she said.
The GOP struck out with Latino voters, as well as African-Americans, women and youth, helping President Barack Obama claim every battleground state except for North Carolina.
Said Rice, "But when you look at the composition of the electorate, clearly we are losing important segments of that electorate and what we have to do is to appeal to those people not as identity groups but understanding that if you can get the identity issue out of the way then you can appeal on the broader issues that all Americans share concerns for."