Thanksgiving service at the Liberation Monument in Stanley
Sunday, November 11th 2012 - 02:46 UTC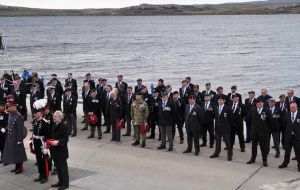 The Memorial service commemorated the 30th anniversary of the Liberation of the Falkland Islands by British Forces, 10 weeks after they were invaded by Argentina. 252 British Servicemen were killed during the action, plus 3 Island ladies.
All 50 veterans were making their first pilgrimage to the Islands and during their one week visit are being hosted by local families.

Lt. Colonel Tony Davies (Welsh Guards) described the commemorative service as having being 'absolutely excellent, and it was more specially so for the 50 first-time returning veterans. It will change their lives for the better and they will return home in a more relaxed frame of mind'.

According to the Falklands government program, Remembrance Sunday begins with a Memorial Service at Christ Church Cathedral in Stanley. This will be followed by a parade of Guard Detachments representing the Royal Navy, Army, Royal Air Force and a Detachment from the Falkland Islands Defence Force.
The Band of HM Royal Marines Scotland will lead the parade. They will be joined by Veterans and Associations and begin their march to the Cross of Sacrifice at the local cemetery.
A short service will then be held and the Roll of Honour read out and there will be two minutes silence at 11.00 am marked by the firing of the saluting guns on Victory Green.