Argentines and Brazilians pay the most tax in Latam, says OECD
Tuesday, November 13th 2012 - 22:53 UTC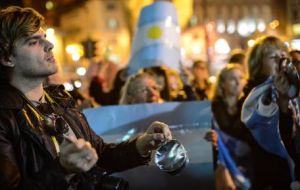 Argentines and Brazilians pay the most tax in Latin America while Venezuelans pay the least, according to a report from the Organisation for Economic Co-operation and Development (OECD), released on Tuesday.
Argentina and Brazil the region number three and one economies, were the only countries in the region to record a tax take of more than 30%, with 33.5% in Argentina and 32.4% in Brazil, according to the report.
Venezuela had the lowest tax take in Latin America at just 11.4% of national income, according to the report prepared by the OECD, Inter-American Centre of Tax Administrations and the Economic Commission for Latin American and the Caribbean.
The report showed the ratio of average tax revenue to national income edged up slightly from 19% in 2009 to 19.4% in 2010 in the 15 Latin American countries covered by the report.
But that average pales in comparison to the average tax take in all OECD countries which is 33.8%.
Mexico, the second largest economy in the region and one of only two Latin American countries in the OECD, was confirmed as having the OECD's lowest tax with 18.8%.
The data highlights the challenge Mexico faces in reaching parity even with its counterparts in Latin America in terms of tax revenue, which credit rating agencies have identified as a brake on the country's ambitions for a higher credit rating.
Enrique Peña Nieto, Mexico's president elect, has said tax reform will be a priority of his administration, which will take power on December first.
A senior tax expert with links to the federal government has said Mexico needs to raise its tax take by at least 6 percentage points of GDP to fund the PRI's spending plans.