Brazilian economy picks up in third quarter, but doubts remain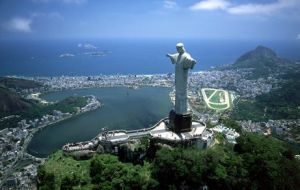 The Brazilian economy gained speed in the third quarter central bank data showed on Wednesday, but weaker activity in September suggests that there are still many question marks ahead.
The central bank's IBC-Br economic activity index fell 0.52% in September from August in seasonally adjusted terms, the first drop after five consecutive monthly increases.
The index, a gauge of activity in the farming, manufacturing and services sectors, rose 1.15% in the third quarter versus the second quarter, indicating Brazil is recovering after nearly a year of stagnation.
In the second quarter, Brazil's GDP expanded just 0.4% from the first quarter, according to the government's stats agency IBGE.
Government officials have acknowledged that the economy could slow in the fourth quarter after surging in the third quarter due to the slew of tax breaks that prompted Brazilians to buy everything from freezers to cars and wallpaper.
Finance Minister Guido Mantega said earlier this week that the GDP grew just over 1% in the third quarter versus the previous quarter. He added that the economy could grow more than 4% in 2013 if investment responds to the tax benefits. But this year the economy is expected to grow just 1.5%.
Still, most analysts see the Brazilian economy recovering to about 4% growth in 2013 after a year of non-stop fiscal and monetary stimulus.