Congress gives Cristina Fernandez additional tool to dismember Clarin group
Thursday, November 15th 2012 - 18:33 UTC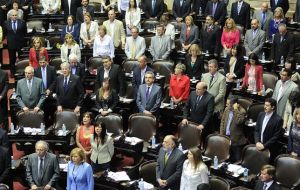 Argentina's Congress approved on Wednesday a new legal regulation which critics say President Cristina Fernandez could use to force a conclusion in her long-running battle with the country's biggest media group.
The regulation, which applies to the use of a legal mechanism called 'per saltum', would let the Supreme Court intervene to decide cases of "institutional seriousness" even when they are being handled by lower tribunals.
Opposition lawmakers say the mechanism could be used by Cristina Fernandez's government to force the country's top court to rule in a high-profile legal case brought by the Grupo Clarin conglomerate over a broadcasting reform law.
Three years since the Argentine leader hailed the law as the start of a new era of media diversity, Clarin has refused to start selling off radio, television and internet licenses and she has given the company until December 7 to comply or have them auctioned by the state instead.
Clarin has vowed to resist and says it was protected by court injunctions for as long as there was no definitive ruling on the constitutionality of the law.
Under the per saltum regulatory clause passed by 135-95 by the government-controlled Congress, the Supreme Court would be able to reject any government request to intervene.
If the government asked the court to decide on the Clarin case, and it accepted jurisdiction, the media conglomerate could have less time to comply with the broadcast law's stipulation that it sell off "excess" licenses, lawyers say.
However, legal specialists say a refusal by the court to intervene -- or a ruling that was unfavourable to the government -- could trigger a conflict between the powers of state.
Opposition lawmaker Graciela Camano said the new per saltum regulation was "an appendix to the media law."
President Cristina Fernandez ally Diana Conti, however, said using the per saltum was aimed at ending "government by judges" and criticized judges who "put the brakes" on laws.
Cristina Fernandez used to have harmonious ties with Grupo Clarin. Things changed in 2008 when Clarin's news outlets turned against her government over its handling of tax protests by farmers.
Since then, the company has become one of Cristina Fernandez's favourite punching bags. Military police raided the offices of Clarin's Cablevision cable TV company late last year and "Clarin Lies" has become a slogan among her supporters.
The dispute has battered Clarin shares, which are down more than 40% in the last year, and rattled investors critical of Cristina Fernandez's increasingly heavy-handed policies in South America's second largest economy.