Uruguayan industry criticizes imports policy, labour costs and Mercosur
Thursday, November 15th 2012 - 19:00 UTC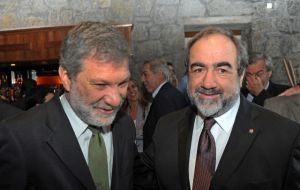 Uruguay' Chamber of Industries, CIU, criticized the 'indiscriminate' influx of foreign goods, labour costs and Mercosur, and called on government to change the focus of its policies towards manufacturing underscoring that the domestic market represents 55% of industries' GDP.
The CIU stated its position this week on the 114th anniversary of the organization to which President Jose Mujica, cabinet members and other top officials were invited. The event coincided with the release of stats showing that industrial activity in September had dropped at least 4% over the same month a year ago.
Official government stats, INE, showed that if oil refining was not included in the sector's activity, overall the industry had contracted and according to private estimates from a local economic research consultancy, Cinve, if the contribution of the UPM pulp mill and Pepsi Cola concentrates plant are excluded industry's physical production was down 4,1%.
Cinve also showed that "again in September export and import substitution industries have experienced negative growth rates, while retailing remains stable and business among different branches of trade and industry show a slight upwards trend".
"Industry needs more support because without industry there is no development and with an undeveloped country there is no industry and no jobs", said CIU president Washington Burghi who suggested local industry and the domestic market should be shielded from excessive imports.
"We need a change of focus regarding national industry because the domestic market also exists and represents 55% of the Gross Industrial product, and it is under constant exposure from indiscriminate imported goods", said Burghi who then invited the government to look at how countries in the region defend their domestic markets.
Further on Burghi questioned the Uruguayan government for not complying with recommendations from the International Labour Organization, ILO, in what refers to labour relations and demanded a "new salary rounds negotiations system", which is 'over balanced towards unions and their strong lobbying'.
Burghi said CIU does not understand the Development Fund, Fondes, criteria and its results since it grants capital and loans to companies that have gone bust and are now run by 'workers' councils', "when at the same time this government support system of capital and credits is not extensive to all the manufacturing industries and companies that need them".
There was also criticism for the 'international insertion' policies and negotiation results that are currently being implemented with Brazil. Burghi demanded that "the opinions of those who generate businesses and jobs in the country should also be heard", and called on government to avoid making "quick decisions".
"There is a pattern of bilateral negotiations by our government with innovations and improvisations as they advance and which at the end of the day do not contribute at all to local industry", said Burghi, and in any case only "generate uncertainty".
Finally regarding Mercosur it is time Uruguay "looks for new markets since Mercosur has long ceased to exist for what it was originally created".
Industry, Mining and Energy minister Roberto Kreimerman in his speech said that in Uruguay 'industry has continued to grow" and will end 2012 with an 3% expansion of industrial production.
"In the first nine months of the year industry excluding oil refining expanded 2.6% compared to the same period in 2011" said Kreimerman adding that Uruguay currently trades with 161 countries, "55 more than ten years ago" and that in last decade 200 new export businesses have been created. Likewise the dairy and bio-fuels have continued to grow sustainedly and strengthening.
As to Burghi's comments on bilateral relations with Brazil, Kreimerman pointed out that "Brazil is a very strong emerging economy and Uruguay has the chance of establishing a 'virtuous integration' with Latam's largest economy".