Cameron and Piñera discuss Falklands, Antarctic cooperation and confirm close links
Friday, November 16th 2012 - 04:22 UTC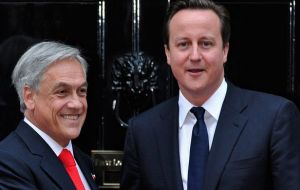 Visiting Chilean president Sabastian Piñera and PM David Cameron reaffirmed the two countries long standing close relations, pledged to increase trade and acknowledged their views on the Falkland Islands and the coming referendum during a meeting on Thursday at 10 Downing Street.
The two leaders also welcomed an agreement signed on Thursday between the British Antarctic Survey and Chilean Antarctic Institute to strengthen the countries' cooperation in this region.
"The Prime Minister warmly welcomed President Piñera of Chile to Downing Street for the second time and said that Chile was one of Britain's oldest friends in South America, with many shared values and aspirations", said a release from 10 Downing Street.
Both leaders said that the meeting further strengthened their relationship and agreed to maintain close cooperation on defence and foreign policy, as well as committing to increase bilateral trade between the two countries from the current £1.73bn.
PM Cameron said he was doing everything he could to regain some of Britain's pioneering spirit in trading with South America.
On the Falklands and the coming referendum, "President Piñera acknowledged the Prime Minister's views and also assured him that shipping routes would remain open to the UK".
The two leaders affirmed their wider commitment to furthering co-operation in science and innovation. The Prime Minister said he hoped that the year of innovation in 2013 in Chile would provide further opportunities to develop these links between the UK and Chile.
Finally they said the BAS/Chilean Antarctic Institute agreement will strengthen cooperation in the region and "allow both countries to use each other's research stations and other assets to help deliver research programs in a part of the world which is vital for understanding the speed and impact of climate change."
President Piñera described the meeting with PM Cameron as "frank, direct and with concrete and positive results". He underlined the scientific cooperation agreement in Antarctica and the agreement to have teachers sent to Chile to teach English and help the South American country become a bi-lingual nation, besides digital.
"Relations between Chile and Great Britain are very solid, positive and we have further advanced on that path, which I'm sure will help the quality of life of the Chilean people particularly students and entrepreneurs, via the accords on education, innovation and technology".
President Piñera is on a tour of Europe which took off in Brussels with Belgian officials, later at the European Parliament and on Thursday Britain, where besides meeting with PM Cameron he gave a conference at Canning House on Latam and Chile opportunities and challenges in the coming decade.