BBC pays £ 185.00 to leading Tory wrongly accused of child sex abuse
Saturday, November 17th 2012 - 05:47 UTC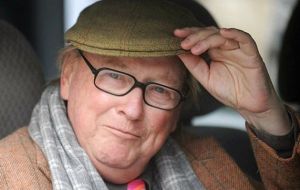 The BBC agreed to pay 185,000 pounds to a former treasurer of Britain's Conservative Party wrongly accused of child sex abuse as a result of one of its reports. The settlement came as media reports said one of the BBC's former stars had been arrested as part of an ongoing police investigation into sex crimes centred on the publicly funded broadcaster.
Lord Alistair McAlpine, an ally of former Prime Minister Margaret Thatcher, was widely named on the internet as being the unidentified senior politician accused in a report by the BBC's flagship Newsnight program of abusing boys in social care.
The flawed film sparked one of the worst crises in the broadcaster's 90-year history and claimed the scalp of Director General George Entwistle, after the abuse victim central to the BBC investigation said McAlpine was not one of his attackers.
"I am delighted to have reached a quick and early settlement with the BBC," McAlpine said in a statement.
"I have been conscious that any settlement will be paid by the licence fee payers, and have taken that into account in reaching agreement with the BBC."
His lawyer warned others who had sullied his client's reputation to get in touch before they too faced litigation, a threat which could ensnare hundreds of Twitter users and bloggers who wrongly named McAlpine.
"We will now be continuing to seek settlements from other organisations that have published defamatory remarks and individuals who have used Twitter to defame me," McAlpine said.