IMF questions plan to restructure Greek debt: "pls reality, not wishful thinking"
Saturday, November 17th 2012 - 23:09 UTC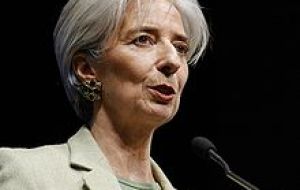 An agreement among Greece's international creditors on reducing its large debt pile should be "rooted in reality and not in wishful thinking," the head of the International Monetary Fund said ahead of a tense meeting with European leaders.
Cutting short a visit to Asia to attend a Eurogroup meeting on Tuesday in Brussels, Christine Lagarde, the IMF managing director, said it was important that an agreement provide a lasting solution to Greece's debt to avoid prolonged uncertainty and further damage to the Greek economy.
"I am always trying to be constructive but I am driven by two objectives," she said in an interview, "to build and approve a program for Greece that is solid, that is convincing today, that will be sustainable tomorrow and that is rooted in reality and not in wishful thinking.
"The second objective is to maintain the integrity, credibility and quality of advice that we are giving, not for the Fund itself, which obviously is a concern of mine, but to lend that to the Europeans because that is what they are interested in," she said late on Saturday.
The IMF and Euro zone governments are at loggerheads over how to reduce Greece's massive debt load, which is holding up the release of 31 billion Euros in emergency loans to Athens.
From Buenos Aires Argentine Economy minister Hernán Lorenzino said that if the IMF believes Greece must restructure its debt, "what are they going to do then with the European 'vulture funds' (or holdouts)?"
Lorenzini quoted extracts from a piece by Ian Tayller a finance journalist who writes for The Wall Street Journal and Dow Jones Newswire and refers precisely to the holdouts and the controversy that will erupt, as is happening with Argentina.
He said it was crucial 'to isolate speculative factors from the real economy financing" and described it as a 'global challenge'. He also praised the fact that France will ban high-frequency trading (HFT) amid its upcoming banking reform.
"France is also reforming its capital markets, separating financial trading activities from real economy operations" he said and emphasized that the end of economic speculation should be a "global challenge."
And from Rome former Italian PM Silvio Berlusconi called for a change in economic policy after what he called a "disastrous" year of austerity under the technocratic government of Mario Monti.
The 76 year-old billionaire's latest attack adds to a series of often contradictory comments he has made in recent weeks that have deepened the political uncertainty before the next election, which is expected to be held in April next year.
Berlusconi's centre-right People of Freedom (PDL) party is expected to choose its candidate to run for prime minister after a primary on Dec. 16. It has been deeply divided over whether or not to stick with Monti's economic program.
"The data after a year of technocratic government is disastrous and so I think there absolutely has to be a change in this economic policy imposed on us by Europe and above all by the hegemony of Germany," Berlusconi told reporters.