Spain and Portugal call for Latam business opportunities and investment
Saturday, November 17th 2012 - 06:30 UTC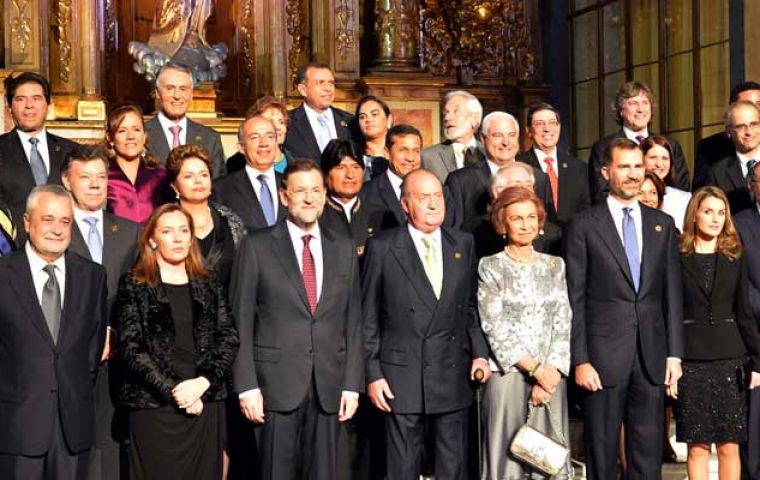 Spain and Portugal sought help from their former Latin American colonies to rescue them from economic crisis through a new wave of trade and investment across the Atlantic Ocean.
Suffering deep recession and with their citizens protesting at job losses and austerity measures, the two European countries hope the Ibero-American Summit of leaders in the historic port of Cadiz can open up desperately needed business opportunities.
In contrast to Iberia's downturn, figures released by the Organisation for Economic Cooperation and Development forecast growth in Latin America of 3.2% in 2012 and 4% in 2013.
"More Latin America in Europe and Spain is a recipe to confront the present challenges," Spanish Prime Minister Mariano Rajoy said in his opening speech at the gathering in Cadiz on Friday.
The plight of the former imperial powers has lent purpose to a summit that in recent years had come to resemble a redundant, ceremony-laden event dominated by the antics of populist leaders such as Venezuelan President Hugo Chavez.
Although Spain's King Juan Carlos is the host, the most important figure at the summit is Dilma Rousseff, president of economic powerhouse Brazil. Spain has made clear it regards Portuguese-speaking Brazil as vital to its salvation.
It is already the second-biggest foreign investor in Brazil and Rajoy wants Spanish companies to get a slice of infrastructure projects, such as ports, highway and airports, including those for the 2014 World Cup and 2016 Olympics in Brazil. Rousseff will stay on in Spain for bilateral talks.
Major Spanish firms such as Telefonica and banking giant Santander now rely on their Latin American operations and Brazil in particular, for a hefty chunk of their profits as local markets decline.
On Friday Spanish technology company Indra revealed a quarter of its revenue this year will come from Latin America, where its sales have increased 12-fold over the last six years. Brazil is its second biggest market after Spain.
Ibero-American Secretary-General Enrique Iglesias said in his opening speech the summit offered "hope and solidarity".
"Spain and Portugal have in the Ibero-American relationship an essential point for stimulating growth," he said. "International cooperation can speed up recovery and reduce the social cost, above all unemployment."
Iglesias called for more credit to finance investment in infrastructure projects and to expand exports.
But he warned Latin America could not remain immune to the problems roiling other world markets if low growth continued. He also urged the continent to embrace free trade and to diversify its economies to further reduce poverty and inequality.
Portugal is also keen to attract Brazilian investment for the privatisations it has been forced to carry out under the terms of its euro zone bailout.
But it turned to China for the sale of a stake in utility Energias de Portugal (EDP) last year, rejecting Brazil's Eletrobras despite heavy lobbying.
In the privatisation of airport operator ANA, Colombian construction company Odinsa is involved in a bidding consortium, as is an Argentine and Brazilian firm. Colombian-Brazilian tycoon German Efromovich is vying to buy Portuguese airline TAP.
Big Portuguese companies still have large stakes in Brazil, including EDP and Portugal Telecom, which have helped support them after earnings slumped at home due to the recession.
While the summit made much of solidarity in troubled times, there are cracks in some relationships, especially those involving left-leaning governments.
Spain and Argentina are still in dispute over Argentina's nationalisation of Spanish oil major Repsol's YPF unit in April. Argentine President Cristina Fernandez cried off the summit on health grounds.