'New Falklands horse racing book attracts record sales'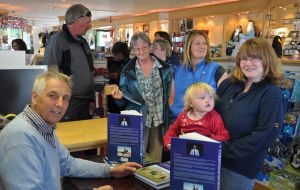 Falklands Governor Mr. Nigel Haywood CVO receiving a copy of the newly published book 'The Christmas Sports' from the author, during a reception hosted by the Governor and his wife at Government House to celebrate the official launch of the book which was researched and written by Patrick Watts MBE - the official race commentator for the past 40 years.
Almost 100 guest were invited to Government House to participate in the reception during which Governor Haywood noted that Mr. Watts was the first Islander recipient of an Academic Scholarship by the Shackleton Scholarship Committee. The Fund was established in the memory of Lord Eddie Shackleton -a Labour peer and son of the famous Antarctic explorer Sir Ernest Shackleton.
During the launch Patrick Watts said that it was the children of the Falklands who had inspired him to write the book. He said that on many occasions youngsters, who were preparing their essay's for the Alistair Cameron Competition, would approach him for information about the history of horse racing in the Falklands, but he had to confess that his knowledge was restricted to the past 30 years, during which time he has been commentating on the main race meeting for Falklands radio.
He said that initially his research had taken him back to the Second World War, but having achieved this aim he then proceeded to research further back to the First World War, and then discovered that he was just a few years away from the first ever official meeting, which was held in 1908.
Governor Haywood said that the book is also an historical document as it lists the names of every Governor of the Islands since 1908 - as Governors automatically assume the position of President of the Stanley Sports Association. He also noted that the name of every Commander of British Forces is documented alongside the Armed Forces Challenge race which traditionally takes place as the last event on the first day of the 3 days race meeting.
The book was placed on sale at the Capstan gift shop in Stanley on Friday morning where Patrick Watts signed copies for the purchasers. By midday the shop had already sold 100 copies and by late afternoon almost 200 copies had been snapped up by eager sports enthusiasts.
Patrick Watts said that he was 'overwhelmed by the interest in the book from within the Islands population'. 'With the 100th race meeting due to take place this Christmas it seems that many people see the book as a worthwhile Christmas gift for friends and family and at £25 it is something that most people can afford'.