Repsol presses charges against Chevron for making business with nationalized YPF
Tuesday, November 20th 2012 - 01:36 UTC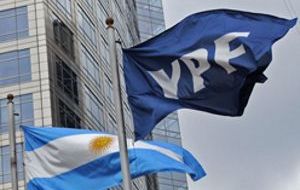 Spanish oil company Repsol has pressed charges against Chevron over "disloyal competition", after the US company reached an agreement with its former Argentine branch YPF to conduct explorations in the Vaca Muerta reservoir, a company spokesman announced.
A Madrid court has accepted the case, which complements the one started in September by Repsol against YPF after it was expropriated by the Cristina Fernández administration.
"These charges are now part of the lawsuit started against YPF over disloyal competition due to the understanding agreement signed between YPF and Chevron" last September in order to explore the Vaca Muerta reservoir, the spokesman said.
Repsol had already threatened to take legal action against anyone who invested in YPF or its assets, which according to the Spanish company, were expropriated illegally.
"We will continue to pursue legal action in order to protect our interests," he said.
Last May, President Cristina Fernández announced she had decided to nationalize a 51% of YPF stocks, part of the 57,5% that belonged to the Spanish group.
Meanwhile in Buenos Aires sources said that YPF and Chevron officials will attempt to move forward this week on a proposal to jointly develop the shale oil and gas deposits, while technical teams will convene in Houston to study the recovery of oil from aging wells through new technologies and partnerships to tap the Vaca Muerta shale formation.
Vaca Muerta contains at least 23 billion barrels of oil. YPF is seeking a shale partner to invest 4.5 billion dollars as part of a 37.2 billion five- year expansion.
Argentina wants Chevron to step up investments as the US company battles a court embargo on its existing assets in the country. On Nov. 7, Civil Judge Adrian Elcuj Miranda ordered 40% of Chevron's Argentine bank accounts to be held in escrow after receiving a petition from Ecuadorian plaintiffs seeking to enforce a 19 billion dollars award in that country.
YPF is having difficulties to attract new investors and so far this year the market value of the company dropped to 4.4 billion dollars with an annual value loss of 70%, which makes it equivalent to what the Argentine nationalized company was worth ten years ago.
A year ago when the company was fully under Repsol control, the value of the company was 13.5bn dollars, while in 2008 when the global crisis it stood at 16.8bn, and the historic value was back in 2005 when it had soared to 28bn dollars.
In January 2012 the YPF share stood at 41.47 dollars, but since the beginning of the intense rumours of nationalization, as finally happened in April, the stock started to slide sustainedly. On 16 April when Cristina Fernandez announced she was taking over 51% of the company's stock from Repsol, the value of the company was 7.9bn dollars (a share traded at 19.50 US dollars). November this year the company's worth was down to 4.4bn dollars.