Another Argentine province confirms 'pesification' of dollar-denominated bonds
Wednesday, November 21st 2012 - 21:18 UTC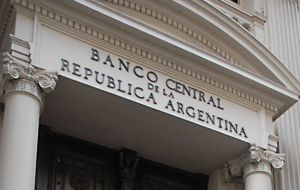 Another Argentine province, Formosa announced that it would be repaying in Pesos its dollar-denominated bonds (FORM3) issued under local law, at an exchange rate of 4.81 Pesos per dollar.
Formosa, which earlier this month followed in the footsteps of its Chaco neighbour when it "Pesified" its debt, on Tuesday sent a press release to the Buenos Aires Stock Exchange announcing the exchange rate it will use for the bond payment, which is due on November 27.
The decision to "Pesify" the payment was made during a meeting among bondholders, where modification of the bonds' terms and conditions was agreed.
The FORM3 bonds were issued in 2008 under local law, for some 44 million dollars, and until this week paid a 5% annual interest rate, on February 27, May 27, August 27 and November 27 each year.
Formosa's decision to "Pesify" debt follows in the heels of Chaco, which on October 3 decided to convert into Pesos the entire sum of its dollar-denominated debt, because, according to the province, the Central Bank did not allow it to access the foreign currency market.
At the time Chaco Governor Jorge Capitanich shocked the local public debt market when announcing the "Pesification" while urging other governors to do the same.
In related news the Argentine Central Bank on Tuesday 88 million dollars to supply private-sector demand for foreign currency, on a day which saw little movement between operators because of the national strike, while the official exchange rate closed at 4.82 Pesos. The wholesale dollar closed at 4.80 Pesos. On the informal market the so called 'blue-dollar' closed at 6.45 Pesos on Tuesday. In complicated transactions with the purpose of trying to get money out of Argentina, people have been prepared to pay up to 7.15 Pesos for the dollar.
The Central bank reported it has already bought 400 million dollars so far this month and 9.64 billion dollars in the year. But international reserves have dropped a billion dollars so far in 2012 to 45.335 billion dollars as at Monday.
Since a year ago the Argentine government has implemented a 'dollar clamp' to discourage residents from purchasing dollars to privilege imports and debt payments. But as the measures tighten, overseas tourism, savings in dollars, imports and the construction and real estate industries have suffered considerably.
The impact according to Buenos Aires City notaries has been particularly strong in the housing market and consequently the construction industry because in Argentina, for decades battered by inflation when not hyper inflation has opted for stable dollars as the currency to buy and sell property.
Although legally such transactions have not been banned the 'dollar clamp' has dried the market of greenbacks.